This Bankruptcy Estimate Form is one of the shortest forms we were able to locate online. The PDF version was generously provided by RPH Law Group, LLC. This is definitely not a short form. Some of the versions we located were nearly 100 pages. This is the same type of form a bankruptcy lawyer would expect you to complete in order for the attorney to start preparing a bankruptcy on your behalf.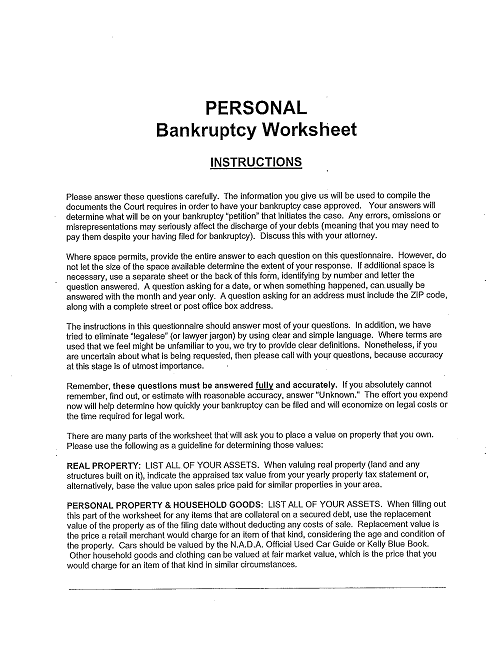 We offer the free Bankruptcy Estimate Form in Microsoft Word as well as a free PDF form. The Word file can be printed as is so you can fill in the blanks by hand. It can also be customized in case you want to change, add, or delete sections. The PDF version is chosen most often by users who want to print the document and fill in the blanks.
Click the link below to download the Bankruptcy Estimate Form in Microsoft Word format . The PDF version is also free but requires more expertise in editing documents. The PDF is also available as part of our 1-Day or 30-Day unlimited download subscription plans.
WORD – Bankruptcy Estimate Form
PDF (fill-in-the-blanks) – Bankruptcy Estimate Form
This particular Bankruptcy Estimate Form in addition to a great number of other legal documents furnished on this web page are offered free "as is" with no limited or specific warranties. This includes, yet is not constricted to, warranty of merchantability or fitness for any type of kind of particular usage.
This completely free Bankruptcy Estimate Form was created by RPH Law Group, LLC. If the legal document is legitimately appropriate for your requirements, it is your obligation to identify.
If needed, you have to also make specific that the form is properly filled out and likewise notarized and/or witnessed.
As a web site visitor of this site, you assume all liability in addition to responsibility for using this Bankruptcy Estimate Form and also finalizing.
We do not assume any kind of legal liabilities or responsibility for the precision or functionality of the legal documentation.
By downloading, printing, or implementing this Bankruptcy Estimate Form, you recognize that we will not be held liable for losses or damages, whether absolute or indirect, deriving from the loss of use or loss of revenues happening from the utilization or granting of the legal forms or the form templates provided on this web page.
Will Forms — Trust Forms — Search For Legal Forms — Health Care Power of Attorney — Advance Directives — Personal Legal Forms — Business Legal Forms