The Colorado Pour Over Will Form is a legal document that details the assets that will poured into the trust already established by the person executing the will. The Pour Over Will is used in very specific circumstances when the grantor has already set up a trust. We highly recommend you consult with an attorney before considering this type of will.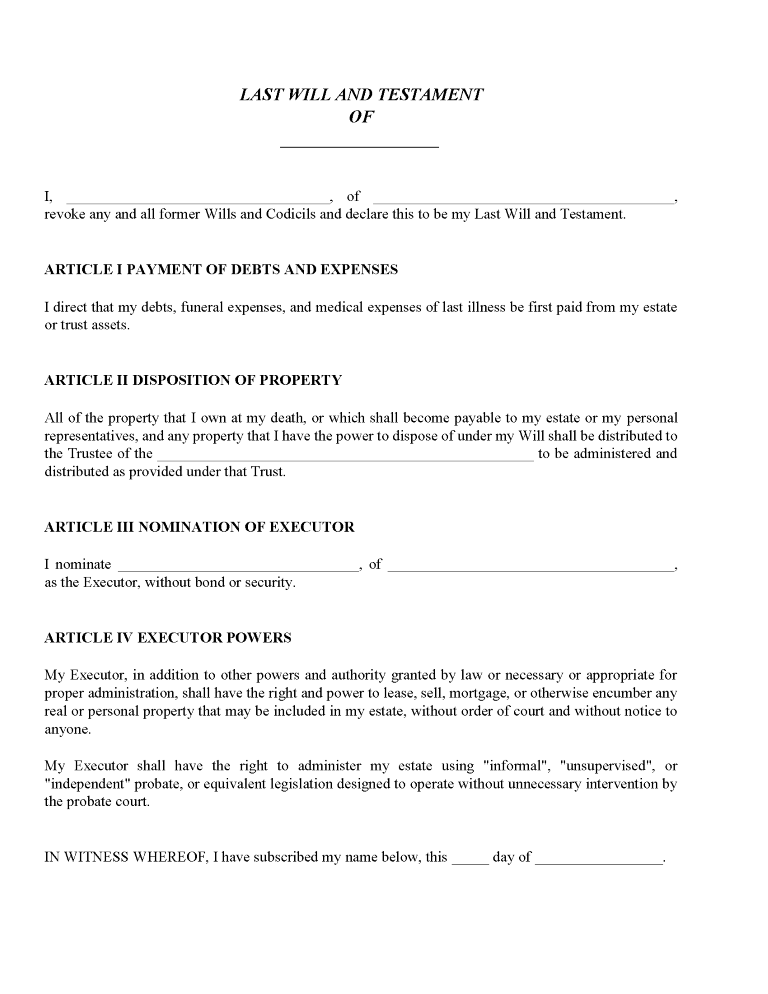 Instead of disbursing your property through an executor, which is the normal procedure, a pour-over will states that any assets that have not been funded into your revocable living trust should be distributed to the trust when you die. It names the trust as the beneficiary of any property that it does not already hold. That property does not go directly to a person or charity, which is the most common stipulation of a last will and testament.
We offer the free Colorado Pour Over Will Form in Microsoft Word as well as a paid PDF. The Word file will automatically download so check the folder where downloads are saved on your computer or mobile device. The PDF will open in a new window so you can print or save it.
Click the link below to download the Colorado Pour Over Will Form in Microsoft Word format for free. You may also create the Colorado Pour Over Will online for free using our free EZ Online Legal Forms. The EZ Online Legal Forms take all the uncertainty out of which information goes on what line. Answer the simple questions and your answers will be electronically filled into the completed form.
WORD – Colorado Pour Over Will Form
PDF (fill-in-the-blanks) – Colorado Pour Over Will Form
We must include the following legal disclaimers:
This Colorado Pour Over Will Form and other legal forms available on this website are provided "as is" without any express or implied warranties of any kind including, but not limited to, warranty of merchantability or fitness for any particular purpose.
It is your responsibility to determine if the Colorado Pour Over Will Form is legally adequate for your needs.
As a user of this website, you assume all responsibility and risk for the use of this Colorado Pour Over Will Form and other legal forms obtained from the site.
We do not assume any legal liability or responsibility for the accuracy or usefulness of the legal forms generated by the templates we offer.
We will not be liable for damages or compensation, whether direct, indirect, or incidental, resulting from the loss of use or profit arising out of or in connection with the use or execution of the legal forms or the form templates.
Will Forms — Trust Forms — Search For Legal Forms — Health Care Power of Attorney — Advance Directives — Personal Legal Forms — Business Legal Forms