This Idaho Will For Remarried With Children is one of the many different sensible files that we make available. Not every person is fortunate or fated to uncover love the first time around. This will is specially worded and constructed for a woman or man that has actually been wed a second time. One choice would certainly be to hire a lawyer to create your will if you've been wed more than two times. You can acquire the Word record and provide extra areas for the additional marriage if you're practiced in Microsoft Word.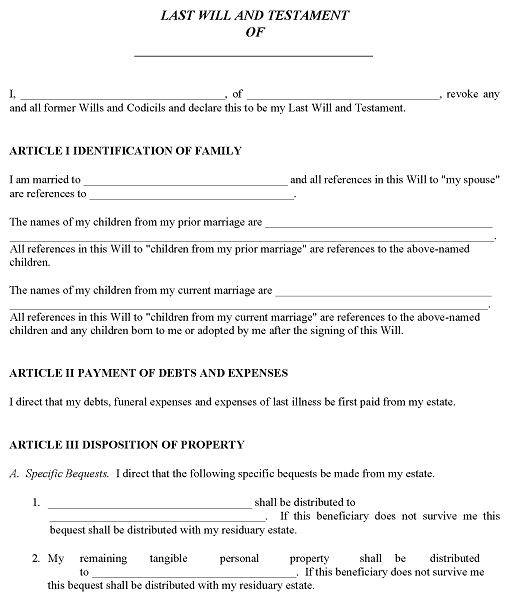 This Idaho Will For Remarried With Children is a legal document that specifies what happens to your items when you die. It lists to whom particular possessions ought to go as well as appoints an executor to handle the estate. You should really name each child in the will. Even if you don't mean to leave any one of your assets to a youngster, you should really state his or her name in the will. Every kid from the present as well as preceding marital relationship ought to be included in the will. While you are not by law commanded to specify each kid in the will, if you don't there's almost certain to a legal clash over the estate when you pass away.
This instrument commands you to list your present partner by name. The will additionally incorporates twin personal trusts – one for the youngsters of your previous marriage as well as a separate trust for the youngsters of your current marital relationship.
Make numerous photocopies of your will and be sure to give them to individuals you count on, particularly the person you are delegating as your executor. The most effective place to maintain your will is a lockbox or safe deposit box inside of the bank. In the state of New Hampshire there is a well recorded event where a female dug up her dad's grave due to the fact that she was positive that's where her brothers hid the real will. Needless to say, the will her brothers presented left the sister virtually nothing. Scorned youngsters will do practically anything.
Take the guess work out of preparing a record by using our Fillable PDF forms. Type in your answers to a handful of simple inquiries and the information will automatically be put within the finished document.
Click the type of file underneath this paragraph to save the Idaho Will For Remarried With Children in Microsoft Word format totally free. You may also create the Idaho Will For Remarried With Children using our free fillable PDF version. The PDF has fillable fields into which you can type the required information.
WORD – Idaho Will For Remarried With Children Word
PDF – Idaho Will For Remarried With Children PDF
---
This Idaho Will For Remarried With Children in addition to numerous other legal documents made available on this site are furnished "as is" without communicated or suggested warranties. This consists of, yet is not limited to, warranty of merchantability or fitness for any sort of particular usage.
This will was not crafted by an attorney or law practice. It is your obligation to identify if the Idaho Will For Remarried With Children is lawfully ample for your requirements. You should also make sure that the form is filled out properly and witnessed by two individuals not associated with you and also not listed as a beneficiary in the will.
As a user of this web site, you assume all responsibility in addition to liability for signing and utilizing this Idaho Will For Remarried With Children. We do not assume any kind of legal obligation or liability for the correctness or effectiveness of the legal file.
By saving, printing, or executing this Idaho Will For Remarried With Children, you recognize that we will not be held responsible for problems or losses, whether indirect or straight, stemming from the loss of use or loss of earnings originating from the usage or implementation of the legal forms or the form templates featured on this site.
Power of Attorney Forms — Will Forms — Trust Forms — Search For Legal Forms — Printable Legal Forms — Advance Directives — Personal Legal Forms — Business Legal Forms