This particular Kentucky Will For Remarried With Children is just one of the numerous realistic files that we provide. Not everybody is lucky in life to find love the very first time they walk down the aisle. This special will is mainly worded and also composed for a guy or girl that has indeed been married a second time. One choice would certainly be to enlist a lawyer to prepare your will if you've been married even more than two times. You can acquire the Word file and incorporate additional sectors for the additional marriage if you're competent in Microsoft Word.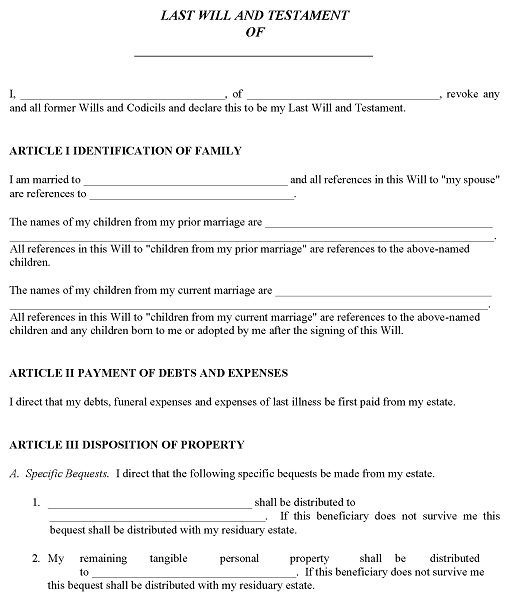 When you die, this Kentucky Will For Remarried With Children is a legal document that defines what occurs to your items. It details to whom certain possessions must go as well as specifies an administrator to deal with the estate. You should certainly mention each kid in the will. Even if you don't plan to leave any of your possessions to a kid, you should list his/her name in the will. Every child from the previous and present marriage really should be stated in the will. While you are not legally mandated to specify each youngster in the will, if you do not there's virtually certain to be a legal battle over the estate when you die.
This instrument allows you to list your current partner by name. It likewise contains lines for the names of the children from your previous as well as current marital relationship. The will also provides double personal trusts – one for the youngsters of your previous marriage as well as another trust for the children of your current marital relationship. You are not required to use those areas. To not develop a particular personal trust, simply indicate 0% as the part of your estate that should go into the trust.
In the state of New Hampshire there is a well documented incident where a lady dug up her dad's place of interment since she was certain that's where her brothers put the real will. Scorned youngsters will do just about anything.
Take the uncertainty out of preparing a record by using our Fillable PDF forms. Enter your answers to a handful basic inquiries and the info will automatically be placed into the finalized documentation.
Click the file name underneath to obtain the Kentucky Will For Remarried With Children in Microsoft Word free of charge. You may also create the Kentucky Will For Remarried With Children using our free fillable PDF version. The PDF has fillable fields into which you can type the required information.
WORD – Kentucky Will For Remarried With Children Word
PDF – Kentucky Will For Remarried With Children PDF
This Kentucky Will For Remarried With Children along with numerous other legal files furnished on this web site are presented "as is" without communicated or implied warranties. This includes, yet is not limited to, warranty of merchantability or fitness for any kind of particular use.
This will was not crafted by a legal professional or law practice. It is your responsibility to determine if the Kentucky Will For Remarried With Children is legitimately sufficient for your needs. You have to likewise make sure that the form is submitted correctly as well as witnessed by two persons not related to you and not named as a recipient in the will.
As a user of this internet site, you assume all obligation along with liability for finalizing and also signing this Kentucky Will For Remarried With Children. We do not assume any type of legal responsibility or liability for the accuracy and precision or practicality of the legal form.
By downloading, printing, or executing this Kentucky Will For Remarried With Children, you acknowledge that we will not be held responsible for problems or losses, whether indirect or straight, stemming from the loss of use or loss of profits originating from the use or implementation of the legal forms or the form files furnished on this website.
Power of Attorney Forms — Will Forms — Trust Forms — Search For Legal Forms — Printable Legal Forms — Advance Directives — Personal Legal Forms — Business Legal Forms