The Last Will and Testament is a document that a person may execute to ensure that loved ones are given certain real and personal property after his or her death. The will must be executed when the person is of sound mind and must be witnessed by at least two unrelated persons.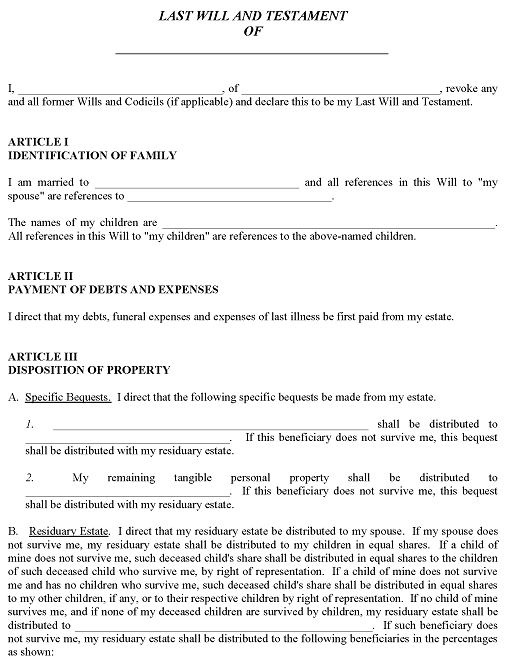 A standard will is usually called a "last will and testament." The will specifies how the person's assets will be distributed and who will be in charge of the distribution. The standard will is suited for individuals and couples with total assets (including life insurance and retirement plans) of less than the exclusion threshold for the federal estate tax, which is currently $11,580,000 for a single person.
Click the name of the state for which you would like to download or print the last will and testament form. You may also create the Last Will and Testament using our free fillable PDF version. The PDF has fillable fields into which you can type the required information.
Alabama Last Will and Testament
Alaska Last Will and Testament
Arkansas Last Will and Testament
California Last Will and Testament
Colorado Last Will and Testament
Connecticut Last Will and Testament
Delaware Last Will and Testament
Florida Last Will and Testament
Georgia Last Will and Testament
Hawaii Last Will and Testament
Illinois Last Will and Testament
Indiana Last Will and Testament
Kansas Last Will and Testament
Kentucky Last Will and Testament
Louisiana Last Will and Testament
Maryland Last Will and Testament
Massachusetts Last Will and Testament
Michigan Last Will and Testament
Minnesota Last Will and Testament
Mississippi Last Will and Testament
Missouri Last Will and Testament
Montana Last Will and Testament
Nebraska Last Will and Testament
Nevada Last Will and Testament
New Hampshire Last Will and Testament
New Jersey Last Will and Testament
New Mexico Last Will and Testament
New York Last Will and Testament
North Carolina Last Will and Testament
North Dakota Last Will and Testament
Oklahoma Last Will and Testament
Oregon Last Will and Testament
Pennsylvania Last Will and Testament
Rhode Island Last Will and Testament
South Carolina Last Will and Testament
South Dakota Last Will and Testament
Tennessee Last Will and Testament
Vermont Last Will and Testament
Virginia Last Will and Testament
Washington Last Will and Testament
Washington DC Last Will and Testament
West Virginia Last Will and Testament
Wisconsin Last Will and Testament
Wyoming Last Will and Testament
Will Forms — Trust Forms — Search For Legal Forms — Medical Power of Attorney — Advance Directives — Personal Legal Forms — Business Legal Forms