This specific Maine Will For Remarried With Children is among the many sensible files that we offer. Not everyone is fortunate in life to locate love the very first time they get married. This will is particularly worded and composed for a man or woman that has been married two times. One choice would be to hire an attorney to create your will if you've been wed more than twice. You can download the Word document and include extra components for the extra marital relationship if you're practiced in Microsoft Word.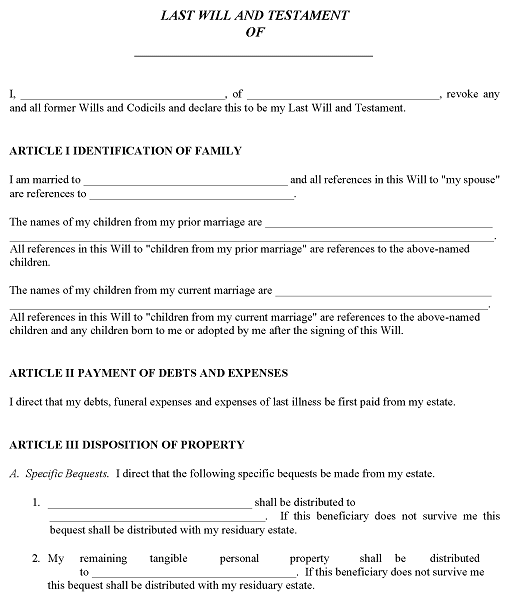 When you pass, this Maine Will For Remarried With Children is a legal document that establishes what occurs to your belongings. It lists to whom specified assets ought to go and also appoints an executor to deal with the estate. You should list each child in the will. Even if you don't intend to leave any of your assets to a youngster, you should list his/her name in the will. Every child from the current as well as previous marriage should be named in the will. While you are not legally called for to specify each child in the will, if you do not there's practically certain to a legal fight over the estate when you pass away.
This file calls for you to mention your current spouse by name. It likewise incorporates lines for the names of the youngsters from your previous as well as present marital relationship. The will also provides twin trusts – one for the youngsters of your previous marriage and another trust for the youngsters of your present marital relationship. You are not required to make use of those parts. To not establish a particular personal trust, merely indicate 0% as the percentage of your estate that should go into the personal trust.
In the state of New Hampshire there is a well noted situation where a woman dug up her daddy's grave since she was convinced that's where her bros stashed the real will. Shunned kids will do just practically anything.
Take the guessing out of preparing a record by utilizing our Fillable PDF forms. Type your answers to a couple of easy questions and the info will conveniently be put right into the completed form.
Click the web link listed below to transfer the Maine Will For Remarried With Children in Microsoft Word completely free. You may also create the Maine Will For Remarried With Children using our free fillable PDF version. The PDF has fillable fields into which you can type the required information.
WORD – Maine Will For Remarried With Children Word
PDF – Maine Will For Remarried With Children PDF
This Maine Will For Remarried With Children along with numerous other legal instruments provided on this site are made available "as is" without communicated or indicated warranties. This includes, yet is not restricted to, warranty of merchantability or fitness for any sort of details use.
This will was not created by a lawyer or law practice. If the Maine Will For Remarried With Children is legally appropriate for your needs, it is your obligation to determine. You should also make sure that the form is submitted properly and witnessed by 2 individuals not connected to you and not identified as a beneficiary in the will.
As a visitor of this web site, you assume all responsibility along with liability for finalizing as well as signing this Maine Will For Remarried With Children. We do not assume any type of legal responsibility or liability for the correctness or usefulness of the legal documentation.
By obtaining, printing, or implementing this Maine Will For Remarried With Children, you acknowledge that we will not be held responsible for losses or damages, whether indirect or direct, originating from the loss of use or loss of profits stemming from the use or implementation of the legal forms or the form templates presented on this internet site.
Power of Attorney Forms — Will Forms — Trust Forms — Search For Legal Forms — Printable Legal Forms — Advance Directives — Personal Legal Forms — Business Legal Forms