This New Jersey Will For Remarried With Children is one of the numerous unique documents that we provide. Not everyone is fortunate or fated to realize love the very first time around. This unique will is specially worded as well as constructed for a person that has already been wed twice. One option would certainly be to work with an attorney to prepare your will if you have actually been wed more than two times. If you excel in MS Word, you can save the Microsoft Word file and provide extra sections for the extra marriage.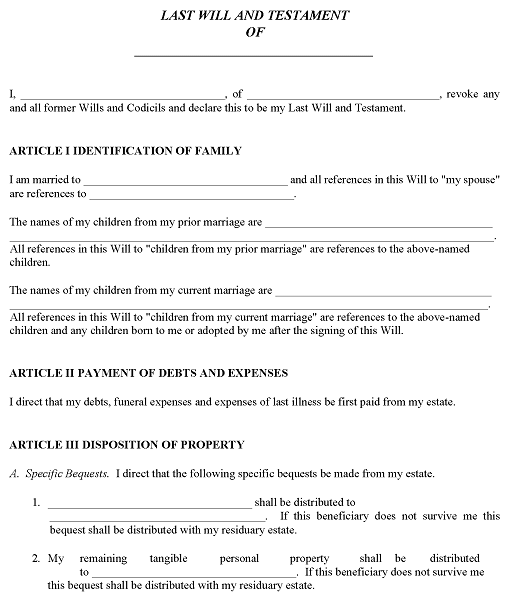 When you cease to exist, this New Jersey Will For Remarried With Children is a legal document that specifies what occurs to your possessions. It describes to whom various properties must go and assigns an administrator to take care of the estate. You should name each youngster in the will. Even if you don't intend to leave any of your possessions to a kid, you ought to include his/her name in the will. Every child from the previous and also present marital relationship should be acknowledged in the will. While you are not by law called for to identify each kid in the will, if you do not there's practically certain to a legal clash over the estate when you pass away.
This record mandates you to include your current spouse by name. It also provides lines for the names of the kids from your current and previous marital relationship. The will additionally establishes twin legal trusts – one for the youngsters of your previous marriage and another trust for the children of your current marriage. You are not commanded to use those portions. To not establish a particular legal trust, just simply assign 0% as the part of your estate that will go into the trust fund.
Make several duplicates of your will and then hand them to people you trust, especially the individual you are delegating as your executor. The best place to store your will is in a lockbox or safe deposit box in the bank. In the state of New Hampshire there is a well documented story where a female dug up her daddy's gravesite due to the fact that she was certain that's where her greedy brothers hid the real will. It goes without saying, the will her siblings provided left the sister practically nothing. Shunned youngsters will do practically anything.
Take the guessing out of preparing a document by utilizing our Fillable PDF forms. Input your answers to a few basic inquiries and the relevant information will automatically be placed in to the finalized document. Our programmers are regularly to include in our catalog of documents that are readily available for use with our Fillable PDF forms. Subscription is commanded for the Fillable PDF forms.
Click the file name underneath to acquire the New Jersey Will For Remarried With Children in Microsoft Word format free of charge. You may also create the New Jersey Will For Remarried With Children using our free fillable PDF version. The PDF has fillable fields into which you can type the required information.
WORD – New Jersey Will For Remarried With Children Word
PDF – New Jersey Will For Remarried With Children PDF
This New Jersey Will For Remarried With Children along with numerous other legal documents offered for download on this web site are made available "as is" without communicated or indicated warranties. This consists of, yet is not restricted to, warranty of merchantability or fitness for any sort of certain use.
This will was not developed by a law firm or law practice. It is your obligation to determine if the New Jersey Will For Remarried With Children is legitimately adequate for your needs. You must additionally make sure that the form is filled out appropriately and witnessed by 2 persons not associated with you as well as not mentioned as a beneficiary in the will.
As a visitor of this site, you assume all responsibility in addition to liability for signing and utilizing this New Jersey Will For Remarried With Children. We do not assume any legal responsibility or liability for the exactitude or effectiveness of the legal form.
By obtaining, printing, or performing this New Jersey Will For Remarried With Children, you recognize that we will not be held liable for losses or damages, whether absolute or indirect, stemming from the loss of use or loss of revenues stemming from the usage or implementation of the legal forms or the form files supplied on this site.
Power of Attorney Forms — Will Forms — Trust Forms — Search For Legal Forms — Printable Legal Forms — Advance Directives — Personal Legal Forms — Business Legal Forms