This particular Ohio Will For Remarried With Children is among the many realistic records that we offer. Not every person is fortunate or destined to realize love the first time they walk down the aisle. This special will is expressly worded and devised for a woman or man who has indeed been married two times. One alternative would be to employ the services of a lawyer to create your will if you have actually been married even more than twice. You can down load the Word instrument and create additional sectors for the additional marital relationship if you're competent in Microsoft Word.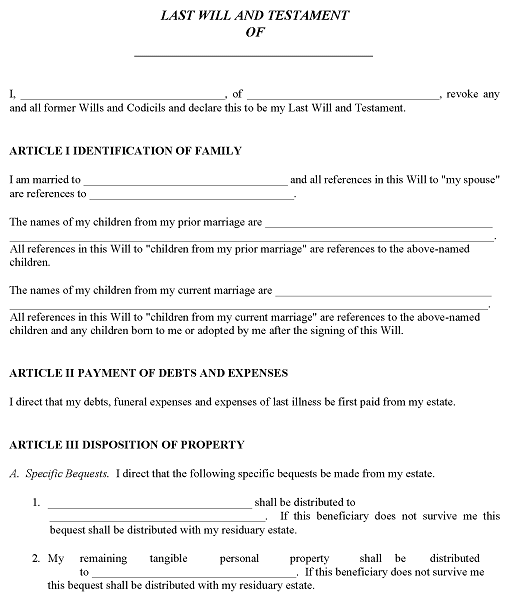 When you die, this Ohio Will For Remarried With Children is a legal document that stipulates what takes place to your possessions. It details to whom particular properties should go and also designates an executor to take care of the estate. You should really mention each youngster in the will. Even if you do not wish to leave any one of your possessions to a child, you ought to include his/her name in the will. Every youngster from the previous and existing marriage should really be listed in the will. While you are not by law required to list each kid in the will, if you don't there's nearly certain to be a legal fight over the estate when you die.
This record commands you to mention your present spouse by name. The will also declares double trust funds – one for the kids of your previous marriage and also a second trust for the children of your present marriage.
In the state of New Hampshire there is a well logged situation where a woman dug up her fairly wealthy father's final resting place because she was convinced that's where her siblings concealed the actual will. Shunned youngsters will do just about anything.
Click the file name beneath this paragraph to get the Ohio Will For Remarried With Children in Microsoft Word . You may also create the Ohio Will For Remarried With Children using our free fillable PDF version. The PDF has fillable fields into which you can type the required information.
WORD – Ohio Will For Remarried With Children Word
PDF – Ohio Will For Remarried With Children PDF
This Ohio Will For Remarried With Children in addition to different other legal documents offered on this internet site are furnished "as is" without expressed or suggested warranties. This consists of, yet is not limited to, warranty of merchantability or fitness for any type of specific usage.
This will was not made by a lawyer or law practice. If the Ohio Will For Remarried With Children is legally appropriate for your needs, it is your obligation to determine. You must additionally be sure that the form is submitted correctly as well as witnessed by two persons not connected to you and not mentioned as a beneficiary in the will.
As an end user of this internet site, you assume all accountability along with liability for finalizing and also utilizing this Ohio Will For Remarried With Children. We do not assume any sort of legal responsibility or liability for the exactitude or efficiency of the legal form.
By retrieving, printing, or implementing this Ohio Will For Remarried With Children, you recognize that we will not be held liable for damages or losses, whether absolute or indirect, coming from the loss of use or loss of earnings originating from the use or execution of the legal forms or the form files furnished on this internet site.
Power of Attorney Forms — Will Forms — Trust Forms — Search For Legal Forms — Printable Legal Forms — Advance Directives — Personal Legal Forms — Business Legal Forms