This specific Washington Will For Remarried With Children is among the numerous commonsense instruments that we offer. Not every person is fortunate enough to experience love the first time they say I do. This unique will is especially worded and also fashioned for a woman or man who has already been wed two times. If you've been married greater than twice, one option might probably be to employ an attorney to draw up your will. If you excel in MS Word, you can download the Microsoft document and add in additional components for the extra marital relationship.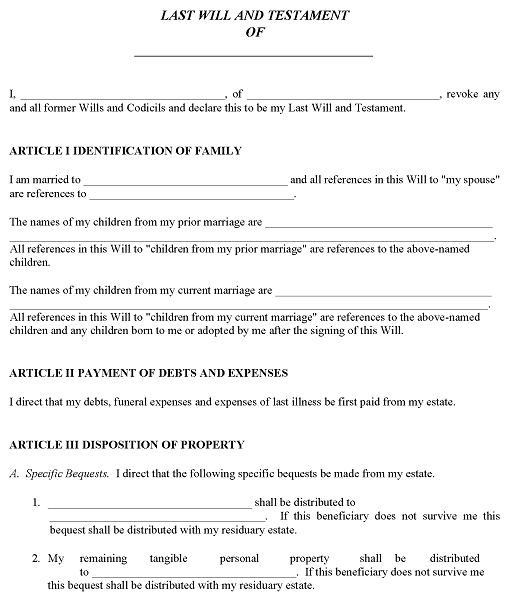 This Washington Will For Remarried With Children is a legal record that specifies what should happen to your belongings when you pass away. It details to whom specific assets ought to go as well as specifies an executor to deal with the estate. You should mention each child in the will. Even if you do not intend to leave any of your assets to a kid, you ought to state his/her name in the will. Every youngster from the present and also previous marriage really should be named in the will. While you are not legally mandated to mention each youngster in the will, if you don't there's virtually certain to a legal clash over the estate when you die.
This record mandates you to list your present spouse by name. It additionally contains lines for the names of the kids from your previous and current marriage. The will also declares dual legal trusts – one for the children of your previous marriage and also another for the kids of your current marriage. You are not commanded to make use of those parts. To not establish a certain trust fund, just enter 0% as the amount of your estate that should go into the trust fund.
In the state of New Hampshire there is a well logged case where a woman dug up her fairly wealthy father's body since she was certain that's where her siblings put the genuine will. Scorned kids will do just about anything.
Take the uncertainty out of preparing an instrument by using our Fillable PDF forms. Input your answers to a handful of straightforward inquiries and electronically the relevant information will immediately be inserted within the finished document. Our designers are continuously functioning to increase our collection of legal forms that are readily available for use with our Fillable PDF forms.
Click the type of file under this paragraph to get the Washington Will For Remarried With Children in Microsoft Word free of cost. You may also create the Washington Will For Remarried With Children using our free fillable PDF version. The PDF has fillable fields into which you can type the required information.
WORD – Washington Will For Remarried With Children Word
PDF – Washington Will For Remarried With Children PDF
This Washington Will For Remarried With Children along with different other legal documents offered for download on this web site are furnished "as is" without expressed or indicated warranties. This includes, yet is not limited to, warranty of merchantability or fitness for any type of specific use.
This will was not made by a lawyer or law practice. If the Washington Will For Remarried With Children is legitimately appropriate for your demands, it is your duty to identify. You have to also be sure that the form is completed appropriately and witnessed by 2 persons not related to you and not mentioned as a beneficiary in the will.
As an end user of this internet site, you assume all obligation along with liability for signing and employing this Washington Will For Remarried With Children. We do not assume any legal responsibility or liability for the accuracy and precision or effectiveness of the legal document.
By saving, printing, or executing this Washington Will For Remarried With Children, you acknowledge that we will not be held accountable for damages or losses, whether absolute or indirect, stemming from the loss of use or loss of profits originating from the use or execution of the legal forms or the form templates supplied on this website.
Power of Attorney Forms — Will Forms — Trust Forms — Search For Legal Forms — Printable Legal Forms — Advance Directives — Personal Legal Forms — Business Legal Forms