The Will For Grandparent With Grandchildrens Trust can be used in many states. Some states require specific wording and conditions to be included in the will. You should check with a competent legal professional to ensure that this Will For Grandparents With Grandchildrens Trust is legally adequate for your needs.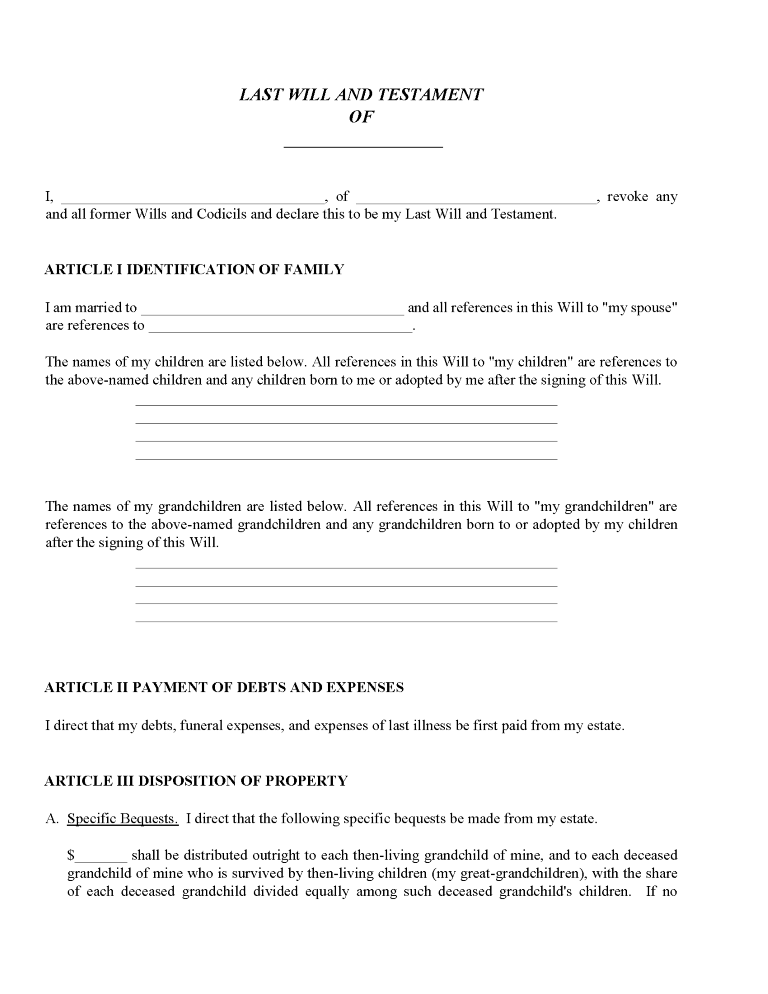 This type of will is fairly straightforward. Upon death of the grandparent, a trust will be established for the grandchild(ren) named in the will. The will should also state the age at which the grandchild(ren)s trust is terminated. At that point, all funds in the trust would be released to the grandchild(ren).
Click the state for which you'd like to download the Will For Grandparent With Grandchildrens Trust Form. You may also create the Will For Grandparent With Grandchildren's Trust using our free fillable PDF version. The PDF has fillable fields into which you can type the required information.
Alabama Will For Grandparent With Grandchildrens Trust
Alaska Will For Grandparent With Grandchildrens Trust
Arizona Will For Grandparent With Grandchildrens Trust
Arkansas Will For Grandparent With Grandchildrens Trust
California Will For Grandparent With Grandchildrens Trust
Colorado Will For Grandparent With Grandchildrens Trust
Connecticut Will For Grandparent With Grandchildrens Trust
Delaware Will For Grandparent With Grandchildrens Trust
Florida Will For Grandparent With Grandchildrens Trust
Georgia Will For Grandparent With Grandchildrens Trust
Hawaii Will For Grandparent With Grandchildrens Trust
Idaho Will For Grandparent With Grandchildrens Trust
Illinois Will For Grandparent With Grandchildrens Trust
Indiana Will For Grandparent With Grandchildrens Trust
Iowa Will For Grandparent With Grandchildrens Trust
Kansas Will For Grandparent With Grandchildrens Trust
Kentucky Will For Grandparent With Grandchildrens Trust
Louisiana Will For Grandparent With Grandchildrens Trust
Maine Will For Grandparent With Grandchildrens Trust
Maryland Will For Grandparent With Grandchildrens Trust
Massachusetts Will For Grandparent With Grandchildrens Trust
Michigan Will For Grandparent With Grandchildrens Trust
Minnesota Will For Grandparent With Grandchildrens Trust
Mississippi Will For Grandparent With Grandchildrens Trust
Missouri Will For Grandparent With Grandchildrens Trust
Montana Will For Grandparent With Grandchildrens Trust
Nebraska Will For Grandparent With Grandchildrens Trust
Nevada Will For Grandparent With Grandchildrens Trust
New Hampshire Will For Grandparent With Grandchildrens Trust
New Jersey Will For Grandparent With Grandchildrens Trust
New Mexico Will For Grandparent With Grandchildrens Trust
New York Will For Grandparent With Grandchildrens Trust
North Carolina Will For Grandparent With Grandchildrens Trust
North Dakota Will For Grandparent With Grandchildrens Trust
Ohio Will For Grandparent With Grandchildrens Trust
Oklahoma Will For Grandparent With Grandchildrens Trust
Oregon Will For Grandparent With Grandchildrens Trust
Pennsylvania Will For Grandparent With Grandchildrens Trust
Rhode Island Will For Grandparent With Grandchildrens Trust
South Carolina Will For Grandparent With Grandchildrens Trust
South Dakota Will For Grandparent With Grandchildrens Trust
Tennessee Will For Grandparent With Grandchildrens Trust
Texas Will For Grandparent With Grandchildrens Trust
Utah Will For Grandparent With Grandchildrens Trust
Vermont Will For Grandparent With Grandchildrens Trust
Virginia Will For Grandparent With Grandchildrens Trust
Washington Will For Grandparent With Grandchildrens Trust
Washington DC Will For Grandparent With Grandchildrens Trust
West Virginia Will For Grandparent With Grandchildrens Trust
Wisconsin Will For Grandparent With Grandchildrens Trust
Wyoming Will For Grandparent With Grandchildrens Trust
Will Forms — Trust Forms — Search For Legal Forms — Health Care Power of Attorney — Advance Directives — Personal Legal Forms — Business Legal Forms