The Wills For Remarried With Adult Children can be customized to your specific situation and needs. The will should be witnessed or notarized based on the requirements on your state. You should check with a competent legal professional to ensure that this Will For Remarried With Adult Children is legally adequate for your needs.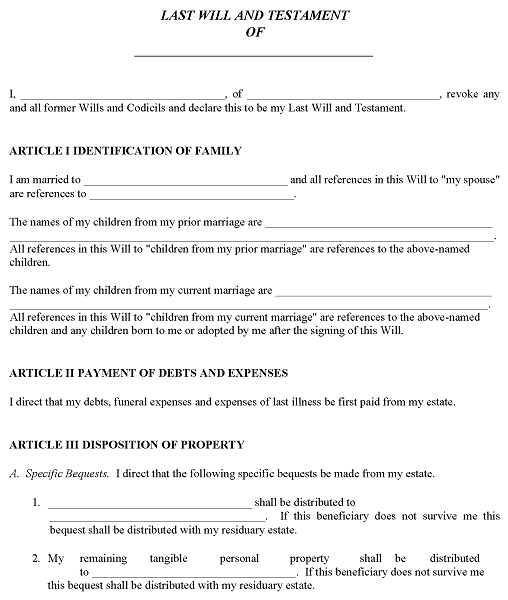 A standard will is usually called a "last will and testament." The will specifies how your assets will be distributed and who will be in charge of the distribution. If you have children it is important to specifically mention each child in the will. Even if you're leaving "nothing but your love" to the child, he or she must be mentioned in the will. Most disputed wills involve children who felt they were cheated out of an inheritance.
Children from second or third marriages often feel have issues with children from other marriages. You might think all of your kids get along but they might be fighting like cats and dogs once an inheritance is in play. It's game on! To avoid future legal disputes, it is imperative that you mention each and every biological child in your will.
Click the state for which you'd like to download the Will For Remarried With Adult Children Form. All of the wills are available in Microsoft Word as well as a free PDF form. You may also create the Will For Remarried With Children using our free fillable PDF version. The PDF has fillable fields into which you can type the required information.
Alabama Will For Remarried With Children
Alaska Will For Remarried With Children
Arizona Will For Remarried With Children
Arkansas Will For Remarried With Children
California Will For Remarried With Children
Colorado Will For Remarried With Children
Connecticut Will For Remarried With Children
Delaware Will For Remarried With Children
Florida Will For Remarried With Children
Georgia Will For Remarried With Children
Hawaii Will For Remarried With Children
Idaho Will For Remarried With Children
Illinois Will For Remarried With Children
Indiana Will For Remarried With Children
Iowa Will For Remarried With Children
Kansas Will For Remarried With Children
Kentucky Will For Remarried With Children
Louisiana Will For Remarried With Children
Maine Will For Remarried With Children
Maryland Will For Remarried With Children
Massachusetts Will For Remarried With Children
Michigan Will For Remarried With Children
Minnesota Will For Remarried With Children
Mississippi Will For Remarried With Children
Missouri Will For Remarried With Children
Montana Will For Remarried With Children
Nebraska Will For Remarried With Children
Nevada Will For Remarried With Children
New Hampshire Will For Remarried With Children
New Jersey Will For Remarried With Children
New Mexico Will For Remarried With Children
New York Will For Remarried With Children
North Carolina Will For Remarried With Children
North Dakota Will For Remarried With Children
Ohio Will For Remarried With Children
Oklahoma Will For Remarried With Children
Oregon Will For Remarried With Children
Pennsylvania Will For Remarried With Children
Rhode Island Will For Remarried With Children
South Carolina Will For Remarried With Children
South Dakota Will For Remarried With Children
Tennessee Will For Remarried With Children
Texas Will For Remarried With Children
Utah Will For Remarried With Children
Vermont Will For Remarried With Children
Virginia Will For Remarried With Children
Washington Will For Remarried With Children
West Virginia Will For Remarried With Children
Wisconsin Will For Remarried With Children
Wyoming Will For Remarried With Children
Will Forms — Trust Forms — Search For Legal Forms — Printable Legal Forms — Advance Directives — Personal Legal Forms — Business Legal Forms