Writing a will is not complicated. Many legal associations, health care organizations, and even AARP have articles devoted to writing a will in less than a few hours. Of course, you'll also encounter a few articles trying to convince you that writing your own will is a bad idea. Most of those were written by lawyers or legal experts who prefer that you pay an attorney to prepare the will.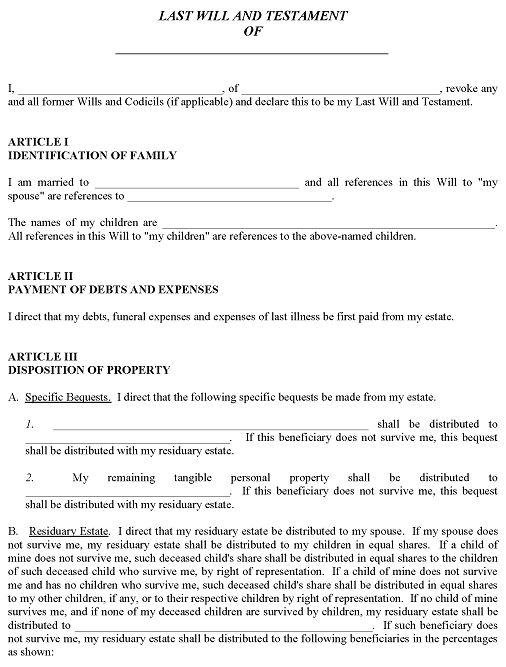 Whether you're married or single, creating a will outlines exactly how you would like your estate distributed and names the person who will be in charge of the dispersal. The person handling your estate is called the Executor. To cover all bases, you should name at least one secondary Executor in the event that your first choice is no longer alive or otherwise unable to oversee the administration of your estate.
Before writing a will, you should write down all of the important items to be included in the will. Start with the names of your spouse and children, if any. You might also want to consider whether you'd like to leave any of your assets to a particular charity. Second, before making a will you should create a list of your assets, taking particular note of specific items that you'd like to leave to one or more beneficiaries. The third important decision is choosing the person you would like to be in charge of administering your estate. Be sure to choose someone you can trust.
You can write your own will by hand, type it out, and use an online will form that already utilizes the basic format. The basic format used for almost all wills is 1) who you are, 2) what you're leaving to whom, and 3) who is in charge of the estate. You can write your own will on a napkin or paper towel as long as it contains the basic information and is witnessed by at least two persons. Only the state of Louisiana requires a will to be notarized.
Setting up a will is much easier if you use a prewritten form. You don't need to actually use the form. You can simply follow the format and use the wording when setting a will to your own liking. Below we've included links to the two most common types of wills. One is the last will and testament for a married person and the other is for a single person.
Click the link below to download the free printable will of your choice. The form is available for single and married persons. Both wills are available in Microsoft Word and PDF format. The forms can be printed as is so you can fill in the blanks. If there are sections you'd like to change or delete, both forms can be edited using the appropriate document editing software. If you're considering writing a will by hand, use the form as a guideline to make sure you've included all of the recommended information.
---
Important Tips For Writing Your Own Will
If you're happy to write your own will, make sure you've covered these points:
Make sure the will is signed, dated and witnessed by at least two persons not related to you or named in the will as beneficiaries. In the state of Louisiana the will must also be notarized.
Double check the spelling of names and triple check the dollar amounts (if any) of the gifts being left to beneficiaries.
When mentioning people, include both their name and relationship to you. Rather than mentioning "my wife" or "my grandson", specify "my wife Kathy Jones" or "my grandson John Matheson".
If you previously signed another will, destroy it. When writing the new will you must mention that it revokes any previous wills and codicils you signed. This makes the new will your last will and testament.
---
Will Forms — Trust Forms — Search For Legal Forms — Printable Legal Forms — Advance Directives — Personal Legal Forms — Business Legal Forms