The Indiana ATV Bill of Sale documents the transfer of ownership of a used all-terrain vehicle or ATV from one party to another, aka from the Seller(s) to the Buyer(s). This form is specifically worded for an ATV. We also offer bill of sale forms for other types of recreational vehicles such as UTVs, dirt bikes, boats, snowmobiles and kayaks.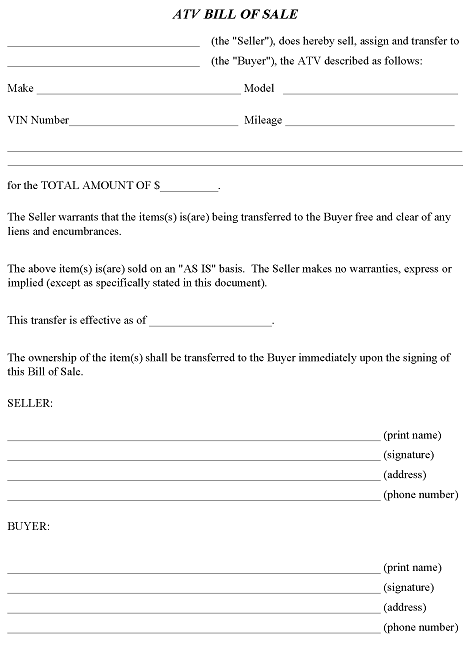 Do you definitely need the Indiana ATV bill of sale? Possibly not but you must be sure to offer protection to yourself. As the seller, why would you let somebody else take something of value that could legally be tracked back to you? You may well require that bill of sale as evidence that you transferred ownership to another person. As the buyer, you need to definitely look for a bill of sale. The bill of sale will be your best defense if there's any doubt over the ownership or transfer of the property.
We offer the completely free Indiana ATV Bill of Sale in Microsoft Word as well as a free PDF form. The PDF version is also free but requires more expertise in editing documents. The PDF is the easier version to print but the Word document is easier to edit.
Click the web link under this paragraph to get the Indiana ATV Bill of Sale in Microsoft Word free of charge. You may also create the Indiana ATV Bill of Sale using our free fillable PDF version. The PDF has fillable fields into which you can type the required information.
WORD – Indiana ATV Bill of Sale Word
PDF – Indiana ATV Bill of Sale PDF
---
This completely free Indiana ATV Bill of Sale along with numerous other legal files provided on this web site are rendered "as is" without any explicit or limited warranties. This includes, yet is not restrained to, warranty of merchantability or fitness for any type of type of certain usage.
This particular Indiana ATV Bill of Sale was not developed by legal professional or law practice. If the file is properly appropriate for your requirements, it is your responsibility to identify. You need to also establish that the form is completely filled in and likewise witnessed if needed.
As a site visitor of this internet site, you assume all liabilities in addition to accountability for executing and utilizing this Indiana ATV Bill of Sale . We do not assume any kind of legal responsibility or responsibility for the accuracy and reliability or functionality of the legal file.
By securing, printing, or implementing this Indiana ATV Bill of Sale, you acknowledge that we will not be held liable for losses or damages, whether indirect or direct, coming from the loss of use or loss of earnings emerging from the use or implementation of the legal forms or the form templates provided on this web site.
Power of Attorney Forms — Will Forms — Trust Forms — Search For Legal Forms — Printable Legal Forms — Advance Directives — Personal Legal Forms — Business Legal Forms