The free Michigan Motor Vehicle Bill of Sale documents the transfer of ownership of a used motor vehicle from the owner to the purchaser. The instrument is exceptionally straightforward to prepare and is available to print or download in Microsoft Word as well as a free PDF form. You are able to print the bill of sale form and promptly write the required information in the blanks. You can similarly modify the form if you have MS Word or PDF editing software and enter the related information straight into the documentation.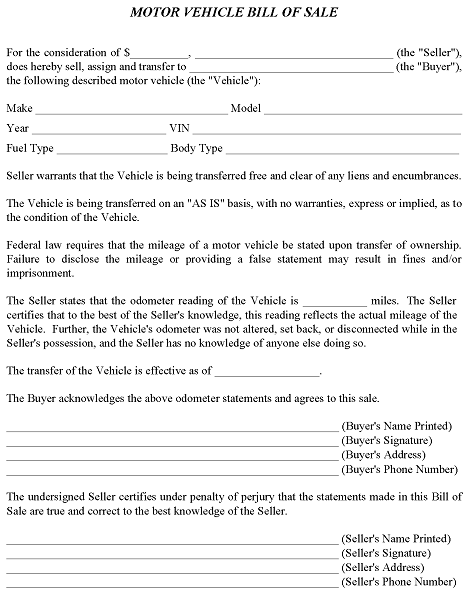 To drive a used motor vehicle on Michigan roads, it must be properly titled and registered. A title is a legal document recording who owns certain property. Information about the car's model, make, year and license plate is shown on the registration. New Michigan residents must title and register their vehicles without delay.
To register a used motor vehicle in the State of Michigan you will need the following documents:
You must give the buyer the title. Making changes on a title, such as crossing out a name, invalidates it. Copies are not acceptable. As the seller, you must complete the seller's portion of the title assignment, including the odometer disclosure statement, and sign it.
Click the web link underneath this paragraph to print or download and save the Michigan motor vehicle bill of sale form in Microsoft Word format completely free. You may also create the Michigan Motor Vehicle Bill of Sale using our free fillable PDF version. The PDF has fillable fields into which you can type the required information.
WORD – Michigan Motor Vehicle Bill of Sale Word
PDF – Michigan Motor Vehicle Bill of Sale PDF
This Michigan motor vehicle bill of sale form along with all various other legal forms presented free on this website are furnished "as is" without having limited or specific warranties. This consists of, yet is not restrained to, warranty of merchantability or fitness for any type of type of details usage.
This Michigan motor vehicle bill of sale form was not made by an attorney or law practice. It is your duty to figure out if the legal document is legally proper for your necessities. If called for, you have to also make specific that the form is completed filled out as well as additionally notarized and/or witnessed.
As a web site visitor of this web site, you assume all liabilities in addition to answerability for using this Michigan motor vehicle bill of sale form and also completing. We do not assume any kind of legal liabilities or commitment for the precision or performance of the legal documentation.
By retrieving, printing, or implementing this Michigan motor vehicle bill of sale form, you recognize that we will not be held accountable for losses or damages, whether indirect or absolute, originating from the loss of use or loss of revenues cropping up from the use or execution of the legal forms or the form templates used on this online site.
Will Forms — Trust Forms — Search For Legal Forms — Medical Power of Attorney — Advance Directives — Personal Legal Forms — Business Legal Forms