This New York Car Bill of Sale is free, as are all of our bill of sale templates. The template is available for free download in both Microsoft Word and PDF. The New York Car Bill of Sale, known as Form MV912 or Form MV 912, documents the transfer of ownership of a used car from one party to another, namely from the Seller to the Buyer. Be sure to check the requirements of your local motor vehicle office. Some states require that the bill of sale be notarized.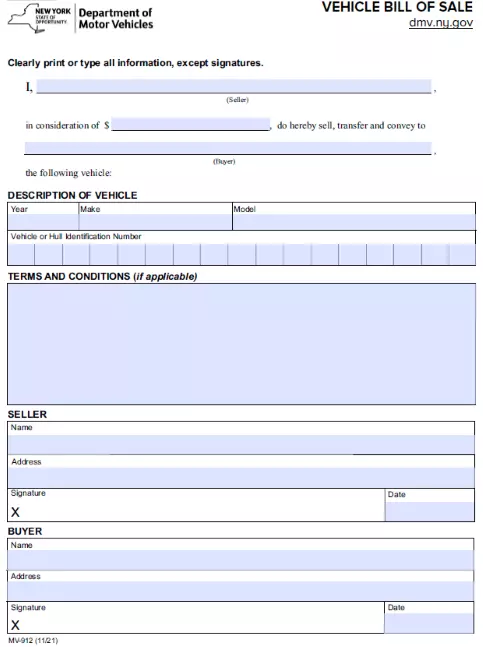 If you sell cars on a regular basis, our free New York Car of Sale Form will save you a ton of work. Once you customize the document with your seller information, you can save the document and reuse it for future sales. Simply enter the buyer's information along with the details of the car being sold, and print the finished bill of sale.
The PDF version of the New York Car Bill of Sale is a fillable PDF. You can type the required information directly into the form and avoid having to write everything by hand each time you make a sale. In order to use the document as a fillable PDF, you will need PDF reader software installed on your computer or mobile device.
Click the appropriate link below to download the New York Car Bill of Sale in either Microsoft Word or fillable PDF. Both versions are free. Most people find the Microsoft Word version is easier to edit and customize but the PDF is easiest to print.
New York Car Bill of Sale Word
New York DTF802 Form may be needed
---
We are required to include the following legal disclaimers:
This New York Car Bill of Sale was created by a skilled and seasoned businessman, not an attorney or law firm. Most states do not have specific requirements for a bill of sale unless it involves the sale of a motor vehicle, boat, or other property that requires a title issued by the state in which the buyer lives.
We highly recommend having the New York Car Bill of Sale notarized if it involves a high-priced item and especially if you are not familiar with the buyer. The notary will confirm the identity of both parties so both you and the buyer are more confident concluding the sale.
The bill of sale forms and templates available for free on this site are offered "as is" with no conveyed or expressed warranties of any sort of kind. This includes, but is not fixed to, warranty of fitness for any kind of particular usage or warranty of merchantability. It is your liability to ensure that the bill of sale is legally adequate for your requirements.
By downloading and using any bill of sale or other legal form offered on our website, you assume all liabilities and risks for use of the document. We do not assume any legal responsibility or liability for the accuracy or effectiveness of the legal forms. We will not be accountable for damages or compensation, whether direct, indirect, or incidental, arising from the loss of usage or revenue occurring out of or in connection with the use or execution of any legal form or form template offered on this website.
Power of Attorney Forms — Will Forms — Trust Forms — Search For Legal Forms — Medical Power of Attorney — Advance Directives — Personal Legal Forms — Business Legal Forms