The New York Motor DTF802 Form should be used when sales tax was not collected at the time of purchase or when the vehicle was received. The form applies to motor vehicles, trailers, ATVs, boats, boat/trailer combinations, and snowmobiles. If you are exempt from paying sales tax on the item pursuant to Section 6 of the form, you must have a bill of sale signed by the seller/donor in order to register and title the property.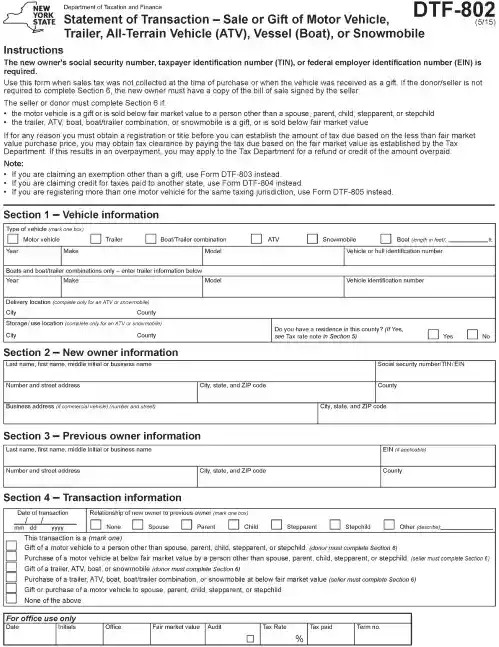 To register a used motor vehicle in the state of New York you will need the following documentation:
Title from previous owner signed over to you
Odometer Disclosure Statement (may be needed)
Proof of motor vehicle insurance
Valid form of identification
Click the web link underneath this paragraph to print or download and save the New York DTF802 Form in Microsoft Word format. You may also create the New York Motor Vehicle Bill of Sale using the free PDF version. The PDF has fillable fields into which you can type the required information.
WORD – New York DTF802 Form Word
PDF – New York DTF802 Form PDF
Can you gift a car to your child in NY?
Yes, in NY you can gift a car to your child, step-child, parent, step-parent, or spouse. You must complete NY Form DTF-802.
Do I have to pay sales tax on a gifted car in NY?
You may have to pay sales tax on a gift car in New York if you are not related to the person who gave it to you. You do not have to pay sales tax if the person who gave you the car is your spouse, parent, step-parent, child, or sibling.
Does Form DFT802 need to be notarized?
no, the DTF-802 does not need to be notarized but it must be signed by the person who sold or gifted you the motor vehicle.
What is New York Form MV50?
New York Form MV50 is the name for a dealer's bill of sale, called a Retail Certificate of Sale. Do not use MV50 as a bill of sale for a used car unless you are a licensed New York car dealer.
This New York DTF802 Form along with all various other legal forms presented free on this website are furnished "as is" without having limited or specific warranties. This consists of, yet is not restrained to, warranty of merchantability or fitness for any type of type of details usage.
As a web site visitor of this web site, you assume all liabilities in addition to answerability for using this New York DTF802 Form and also completing. We do not assume any kind of legal liabilities or commitment for the precision or performance of the legal documentation.
By retrieving, printing, or implementing this New York DTF802 Form, you recognize that we will not be held accountable for losses or damages, whether indirect or absolute, originating from the loss of use or loss of revenues cropping up from the use or execution of the legal forms or the form templates used on this online site.
Will Forms — Trust Forms — Search For Legal Forms — Medical Power of Attorney — Advance Directives — Personal Legal Forms — Business Legal Forms