This Delaware Buy-Sell Agreement is a legally binding written agreement that specifies how a partner's segment of the partnership may be reassigned if that partner passes away or otherwise exits the firm. Most typically, the buy and sell agreement specifies that the available allotment be sold to the remaining partners or to the partnership.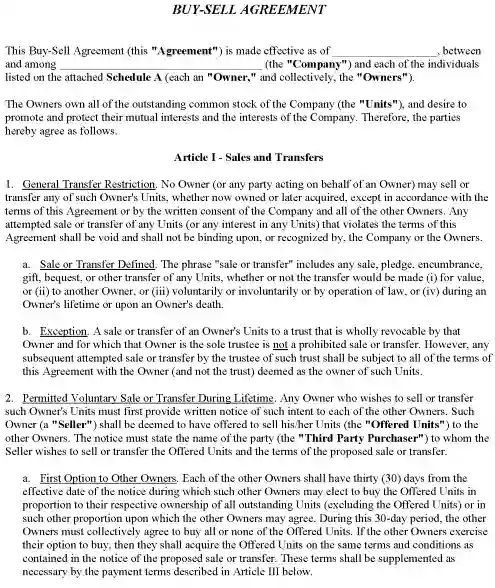 Buy-sell agreements are widely utilized by business partnerships and closed corporations in an effort to expedite disruptions in ownership when a partner passes away, retires, or elects to depart the organization. The buy-sell agreement states that the organization segment be offered to the company or the remaining business partners of the organization according to a predetermined formula. Without this kind of agreement in place, when a partner dies his slice of the firm would be handled by the executor of the will. If the family members do not want to sell the partner's percentage of the business enterprise, the staying partners have no legal choices to buy it.
The absolutely free Delaware Buy-Sell Agreement file can be tailored to suit your demands, especially if you're competent in editing Microsoft Word documents. You might need to bring in or erase segments depending on the particular agreement you're making with the other partner(s). IF there are just 2 partners you can expunge mentions in the document to extra partners. It is your obligation to guarantee that the buy-sell agreement form meets your precise requirements and includes all of the provisions you call for.
Click on the correct link underneath this paragraph to retrieve the Delaware Buy-Sell Agreement in Microsoft Word free of charge. The Word version of this document is free. The PDF version is also free but requires more expertise in editing documents..
WORD – Delaware Buy-Sell Agreement Word
PDF – Delaware Buy-Sell Agreement PDF
This Delaware Buy-Sell Agreement alongside every various other legal forms supplied free on this internet site are presented "as is" without limited or express warranties. This includes, yet is not restricted to, warranty of merchantability or fitness for any type of sort of details use.
This Delaware Buy-Sell Agreement was not created by a lawyer or law practice. It is your duty to determine if the file is legally appropriate for your requirements. You need to also ensure that the form is completed submitted and likewise witnessed and/or notarized if called for.
As a web page visitor of this website, you assume all liability together with answerability for signing and utilizing this Delaware Buy-Sell Agreement. We do not assume any legal duty or obligation for the exactitude or performance of the legal instrument.
By transferring, printing, or performing this Delaware Buy-Sell Agreement, you recognize that we will not be held liable for losses or damages, whether absolute or indirect, as a result of the loss of use or loss of revenues stemming from the application or granting of the legal forms or the form templates supplied on this web page.
Will Forms — Trust Forms — Search For Legal Forms — Medical Power of Attorney — Advance Directives — Personal Legal Forms — Business Legal Forms