This absolutely free Iowa Buy-Sell Agreement is a legally binding agreement that conditions how a partner's share of the company will legally be reassigned if that partner passes away or otherwise exits the firm. The majority of frequently, the buy and sell contract provides that the exiting partner's share be offered to the other partners or to the partnership itself.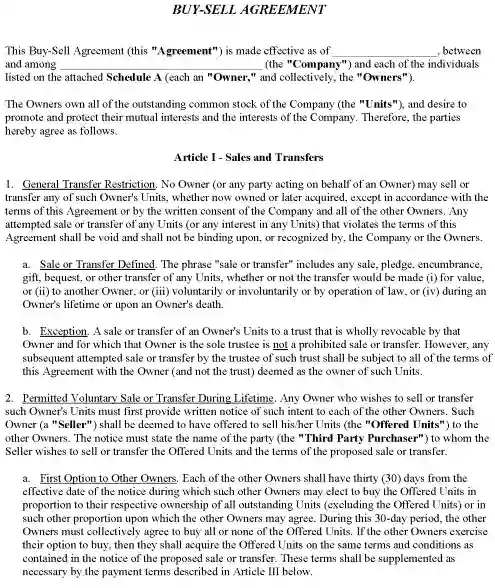 Buy-sell contracts are regularly used by business partnerships and closed corporations in an endeavor to smooth transformations in ownership when a partner passes away, retires, or makes a decision to exit the partnership. The buy-sell agreement stipulates that the enterprise allotment be sold to the business or the other business partners of business according to a predetermined formula. Without this kind of contract in place, when a partner dies his share of the firm would be handled by the executor of the will. The remaining partners have no legal choices to buy it if the family members do not wish to offer the partner's stake of the partnership.
The Iowa Buy-Sell Agreement file can be personalized to fit your goals, in particular if you're proficient in editing Microsoft Word documents. You might want to include or erase areas depending on the individual business agreement you're setting up with the other partner(s). IF there are just two partners you can erase mentions in the document to extra partners. It is your duty to guarantee that the buy-sell agreement form fulfills your exact requirements and consists of all of the provisions you require.
Click the link below to download the Iowa Buy-Sell Agreement in Microsoft Word format . You may also create the Iowa Buy-Sell Agreement using our free fillable PDF version. The PDF has fillable fields into which you can type the required information.
WORD – Iowa Buy-Sell Agreement Word
PDF – Iowa Buy-Sell Agreement PDF
---
We must include the following legal disclaimers:
This Iowa buy-sell agreement form and other legal forms available on this website are provided "as is" without any express or implied warranties of any kind including, but not limited to, warranty of merchantability or fitness for any particular purpose.
It is your responsibility to determine if the Iowa Buy-Sell Agreement is legally adequate for your needs.
As a user of this website, you assume all responsibility and risk for the use of the Iowa buy-sell agreement form and other legal forms obtained from the site.
We do not assume any legal liability or responsibility for the accuracy or usefulness of the legal forms generated by the templates we offer.
We will not be liable for damages or compensation, whether direct, indirect, or incidental, resulting from the loss of use or profit arising out of or in connection with the use or execution of the legal forms or the form templates.
Will Forms — Trust Forms — Search For Legal Forms — Medical Power of Attorney — Advance Directives — Personal Legal Forms — Business Legal Forms