The completely free Virginia Buy-Sell Agreement is a lawfully binding contract that specifies how a partner's slice of the company must be reassigned if that partner dies or otherwise departs the organization. Most often, the buy and sell contract specifies that the partner's percentage be sold to the remaining partners or to the partnership itself.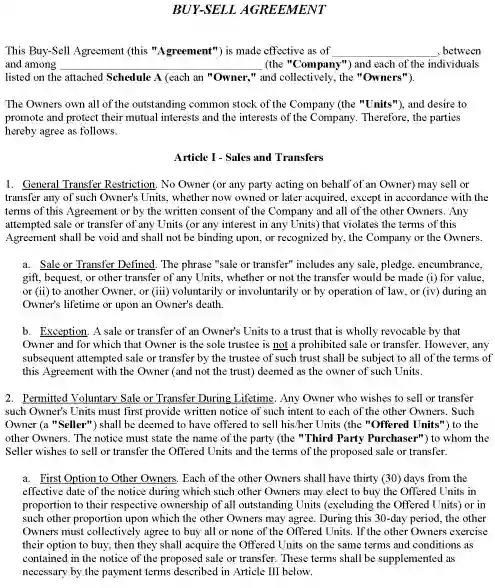 Buy-sell contracts are extensively used by partnerships and closed corporations in an effort to smooth out conversions in ownership when a partner passes away, retires, or comes to a decision to leave the business enterprise. The buy-sell agreement requires that the partnership slice be sold to the partnership or the remaining partners of the firm according to a fixed formula. Without this kind of agreement in writing, when a partner dies his segment of the enterprise would have to be dealt with by the executor of the will. If the family members do not want to sell off the partner's portion of business, the remaining partners have no legal alternatives to buy it.
This totally free Virginia Buy-Sell Agreement document can be personalized to fit your needs, specifically if you're skilled in editing Microsoft Word documents. You might want to incorporate or expunge portions depending on the detailed business agreement you're setting up with the other partner(s). If there are just 2 partners you can remove references in the document to additional partners.. It is your duty to guarantee that the buy-sell agreement form meets your exact needs and includes all of the provisions you require.
Click on the relevant link below to save the Virginia Buy-Sell Agreement in Microsoft Word format totally free. The Microsoft Word file will electronically download to your device so take a look at the folder where downloads are put on your computer or mobile device. You may also create the Virginia Buy-Sell Agreement using our free fillable PDF version. The PDF has fillable fields into which you can type the required information.
WORD – Virginia Buy-Sell Agreement Word
PDF – Virginia Buy-Sell Agreement PDF
---
This Virginia Buy-Sell Agreement in addition to every other legal documents supplied on this web site are offered "as is" without having explicit or implied warranties. This also includes, yet is not constricted to, warranty of merchantability or fitness for any type of kind of particular usage.
This Virginia Buy-Sell Agreement was not crafted by a legal representative or law practice. If the instrument is legitimately proper for your needs, it is your obligation to determine. You need to furthermore make certain that the form is completed filled in and additionally witnessed and/or notarized if mandated.
As a webpage visitor of this site, you assume all duty together with accountability for signing and also utilizing this Virginia Buy-Sell Agreement. We do not assume any legal responsibility or obligation for the accuracy or functionality of the legal documentation.
By transferring, printing, or performing this Virginia Buy-Sell Agreement, you acknowledge that we will not be held responsible for injuries or losses, whether direct or indirect, stemming from the loss of use or loss of profits occurring from the application or granting of the legal forms or the form templates offered on this online site.
Will Forms — Trust Forms — Search For Legal Forms — Medical Power of Attorney — Advance Directives — Personal Legal Forms — Business Legal Forms