There are hundreds if not thousands of Employer Employee forms used in everyday businesses across the U.S. Every human resource department has a library of paperwork that must be filled out and store securely. If you are an employer, check with your state to determine how long you must maintain employee records. Even if you cease operations, you are required to keep employee records for a certain period of time.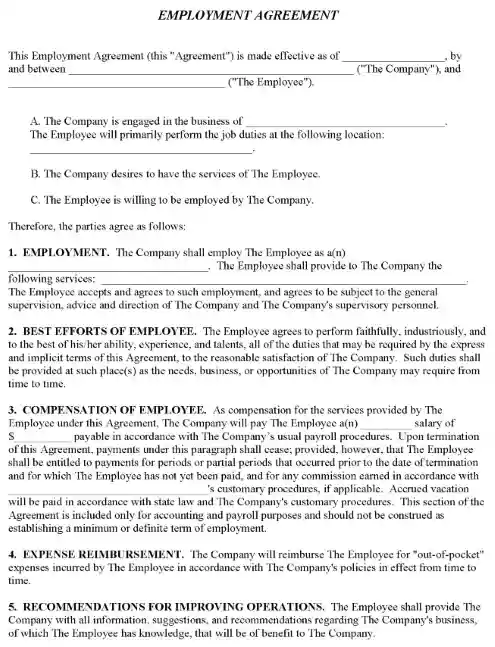 If you're considering hiring a person as an independent contractor, check the national news. Major companies are losing lawsuits left and right over their classification of independent contractors. State and federal laws have strict conditions that must be met in order to classify a person as an independent contractor. If you set the hours required for the position and dictate the exact duties to be performed, chances are a court of law will determine that the person should be classified as an employee.
Below are the Employer Employee forms we currently offer. Most of the forms are also available as fillable PDF to our subscribing members.
Employee Accident or Injury Report
Employee Drug or Alcohol Testing Consent Form
Employee Performance Review Form
Employee Tuition Reimbursement Form
Employment Agreement (Quick Form)
Employment Agreement (Standard Form)
Employment Reference Request Form
Independent Contractor Agreement
Release of Employment Information Form
Request For Family or Medical Leave Form
These free employer employee forms along with most of the other legal forms granted on this online site are granted "as is" without any express or limited warranties. This includes things like, yet is not restrained to, warranty of merchantability or fitness for any type of kind of particular usage.
These particular business employer employee forms were not created by an attorney or law practice. If the document is properly proper for your prerequisites, it is your duty to determine. You need to furthermore affirm that the form is accurately completed and also witnessed if required.
As a website visitor of this web site, you assume all liabilities along with responsibility for completing as well as utilizing the employer employee forms. We do not assume any legal liabilities or commitment for the correctness or functionality of the legal form.
By transferring, printing, or implementing any of these employer employee forms, you acknowledge that we will not be held accountable for losses or damages, whether direct or indirect, stemming from the loss of use or loss of profits developing from the usage or signing of the legal forms or the form templates offered on this web page.
Will Forms — Trust Forms — Search For Legal Forms — Printable Legal Forms — Advance Directives — Personal Legal Forms — Business Legal Forms