The Health Care Power of Attorney is recognized by all 50 states. Many states use different names such as Medical Power of Attorney, Health Care Proxy, Health Care Agent, and Health Care Representative. It is your responsibility to check with your state to determine if the health care power of attorney is legally adequate for your needs.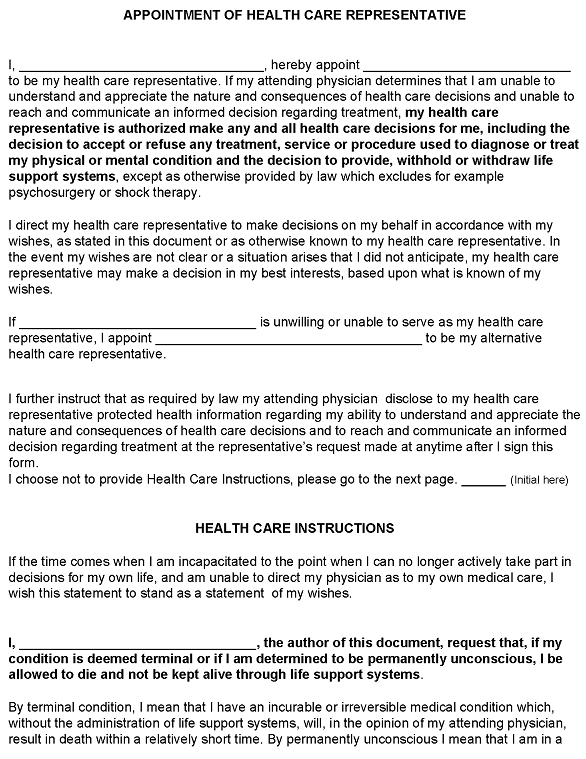 This Health Care Power of Attorney is considerably uncomplicated to fill out. When the time takes place, many of the time required will be determining ahead of time which decisions you would like applied if or. Do you want to remain on life support machines even if there is no brain activity? Do you really want health care representatives endeavoring to revive you if you go into heart attack? Do you wish to give away your organs and tissues after you've passed away? When you're healthy and in a clear frame of mind, the absolute best time to make these choices is.
It is imperative that you detail your health care decisions to the person you are delegating as your health care delegate. The person definitely needs to understand what your options are for as many imaginable situations as possible. How long do you want to continue with life support prior to wanting to pull the plug? Do you have any worries of particular medical treatments or techniques? Do you want to breath by yourself at all times or is a breathing device allowed?
A fillable PDF features slots called fields. Just simply click the blank field and type in the instructed information. The font size of the data you input adapts to the size of characters inputted into the field. The text will still fit into the provided area if you have a long name or input a lot of info into what looks like a little field.
We offer most of the totally free Health Care Power of Attorney form in Microsoft Word as well as a free PDF version. The MS Word version will almost instantly download so go through the folder where files are kept on your PC or mobile phone. The PDF will launch in a new tab so you can print or save it.
WORD – Health Care Power of Attorney Form
PDF – Health Care Power of Attorney Form
The Health Care Power of Attorney Forms plus most various other legal records offered on this website are granted "as is" without limited or specific warranties. This includes things like, yet is not constricted to, warranty of merchantability or fitness for any type of sort of certain use.
This Health Care Power of Attorney Forms were not established by an attorney or law practice. If the documentation is legally ideal for your needs, it is your responsibility to establish. You have to likewise ensure that the form is completed filled out and additionally notarized and/or witnessed if needed.
As a site visitor of this website, you assume all liability in addition to answerability for employing this Health Care Power of Attorney form as well as finalizing. We do not assume any kind of legal responsibility or obligation for the exactitude or efficiency of the legal documentation.
By downloading, printing, or executing this Health Care Power of Attorney form, you acknowledge that we will not be held accountable for injuries or losses, whether indirect or direct, stemming from the loss of use or loss of profits developing from the utilization or implementation of the legal forms or the form templates offered on this website.
Will Forms — Trust Forms — Search For Legal Forms — Health Care Power of Attorney — Advance Directives — Personal Legal Forms — Business Legal Forms