Our power of attorney form free printable can be used in many states. Some states, in particular California and New York, have particular wording and conditions that must be included in the power of attorney form. It is your responsibility to check with your state to determine if these state power of attorney forms free printable is legally adequate for your needs.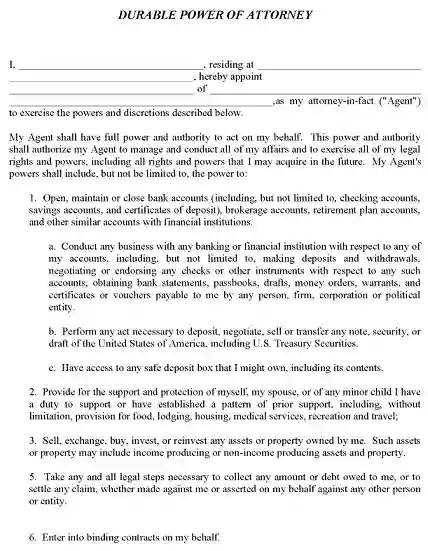 A power of attorney is a legal document giving one person (the agent or attorney-in-fact) the power to act for another person (the principal). The agent can have broad legal authority or limited authority to make legal decisions about the principal's property, finances or medical care. The power of attorney is frequently used in the event of a principal's illness or disability, or when the principal can't be present to sign necessary legal documents for financial transactions.
A power of attorney can end for a number of reasons, such as when the principal dies, the principal revokes it, a court invalidates it, the principal divorces his/her spouse who happens to be the agent or the agent can no longer carry out the outlined responsibilities.
A conventional power of attorney lapses when the creator becomes incapacitated, but a "durable power of attorney" remains in force to enable the agent to manage the creator's affairs. A "springing power of attorney" springs into effect only if and when the principal becomes incapacitated. A medical or health care power of attorney enables an agent to make medical decisions on behalf of an incapacitated person.
Click the state for which you would like to download the power of attorney form free printable template. When the template opens, save it to your computer or mobile device, or print it using the print function on your device or browser. Depending on the settings of your computer or device, the form may automatically download. You must use Microsoft Word to customize the template. When preparing the form, be sure to carefully read each section to ensure that you include all of the required information.
Alabama Power of Attorney Form Free Printable
Alaska Power of Attorney Form Free Printable
Arizona Power of Attorney Form Free Printable
Arkansas Power of Attorney Form Free Printable
California Power of Attorney Form Free Printable
Colorado Power of Attorney Form Free Printable
Connecticut Power of Attorney Form Free Printable
Delaware Power of Attorney Form Free Printable
Florida Power of Attorney Form Free Printable
Georgia Power of Attorney Form Free Printable
Hawaii Power of Attorney Form Free Printable
Idaho Power of Attorney Form Free Printable
Illinois Power of Attorney Form Free Printable
Indiana Power of Attorney Form Free Printable
Iowa Power of Attorney Form Free Printable
Kansas Power of Attorney Form Free Printable
Kentucky Power of Attorney Form Free Printable
Louisiana Power of Attorney Form Free Printable
Maine Power of Attorney Form Free Printable
Maryland Power of Attorney Form Free Printable
Massachusetts Power of Attorney Form Free Printable
Michigan Power of Attorney Form Free Printable
Minnesota Power of Attorney Form Free Printable
Mississippi Power of Attorney Form Free Printable
Missouri Power of Attorney Form Free Printable
Montana Power of Attorney Form Free Printable
Nebraska Power of Attorney Form Free Printable
Nevada Power of Attorney Form Free Printable
New Hampshire Power of Attorney Form Free Printable
New Jersey Power of Attorney Form Free Printable
New Mexico Power of Attorney Form Free Printable
New York Power of Attorney Form Free Printable
North Carolina Power of Attorney Form Free Printable
North Dakota Power of Attorney Form Free Printable
Ohio Power of Attorney Form Free Printable
Oklahoma Power of Attorney Form Free Printable
Oregon Power of Attorney Form Free Printable
Pennsylvania Power of Attorney Form Free Printable
Rhode Island Power of Attorney Form Free Printable
South Carolina Power of Attorney Form Free Printable
South Dakota Power of Attorney Form Free Printable
Tennessee Power of Attorney Form Free Printable
Texas Power of Attorney Form Free Printable
Utah Power of Attorney Form Free Printable
Vermont Power of Attorney Form Free Printable
Virginia Power of Attorney Form Free Printable
Washington Power of Attorney Form Free Printable
West Virginia Power of Attorney Form Free Printable
Wisconsin Power of Attorney Form Free Printable
Wyoming Power of Attorney Form Free Printable
Will Forms — Trust Forms — Search For Legal Forms — Medical Power of Attorney — Advance Directives — Personal Legal Forms — Business Legal Forms