To file for divorce in the state of Michigan, you or your spouse must have lived in Michigan for at least six months prior to filing for divorce, and you must also have lived in the county where you or your spouse file for at least 10 days prior to filing. You do not have to be legally separate or live separately from your spouse in order to file for divorce.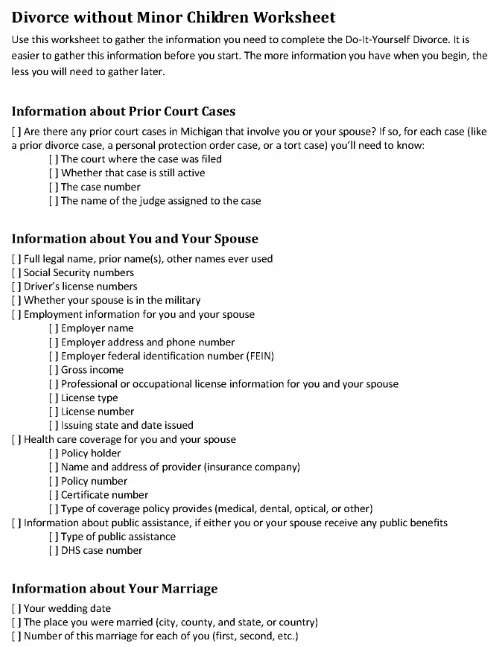 Michigan divorce forms cannot be downloaded or printed from PDFs. Michigan offers an online Do-It-Yourself Divorce Tool to complete divorce forms. You must type in the information before you can print the forms. Visit the Michigan Legal Help website to access the online forms tool.
The Do-It-Yourself Divorce tool will ask for information you might not have with you now. You can save time by printing the Divorce with Minor Children Worksheet or Divorce without Minor Children Worksheet before you start. Use the worksheet to record the information you will need to use the online tool.
The Michigan Do-It-Yourself Divorce Tool will ask a series of questions. Your answers will be used to create the divorce forms. If you don't know the answer to a question, you can leave it blank, but you will probably need to write in that information by hand before you file the forms with the court. Once you finish the online tool, you can print your documents or save them.
The following informational documents will help you prepare to use the online do-it-yourself divorce tool.
Michigan Divorce With Minor Children Worksheet
Michigan Divorce Without Minor Children Worksheet
Michigan Parenting Time Guideline
Feel like you need a divorce lawyer? Visit our Divorce Lawyers in Michigan page.