We offer several types of Blank Will Forms. These are PRINTABLE will forms. A standard will is referred to as a "last will and testament." The will specifies how the person's assets will be distributed and who will be in charge of the distribution. The standard will is suited for individuals and couples with total assets (including life insurance and retirement plans) of less than the exclusion threshold for the federal estate tax, which is currently $11,580,000 for a single person and $23,160,000 for a married couple.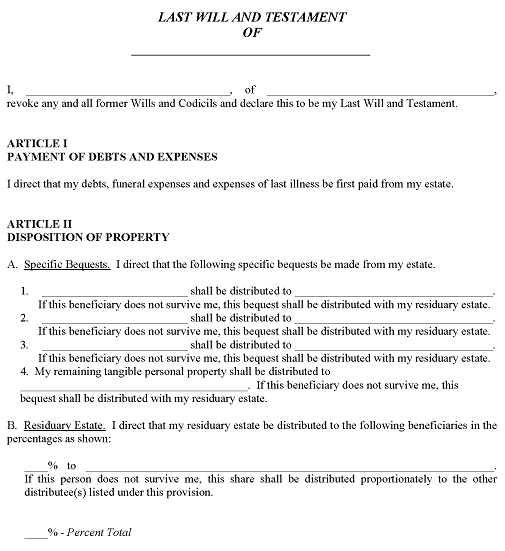 Free Blank Will Forms To Print
We offer much more than just standard blanks wills. For most of us, life is anything but standard. We offer wills for the most common everyday situations. The most popular will we offer is for persons who are remarried and have children from one or both marriage(s).
Searching For a Particular Type of Blank Will Form? Search our site using the Google-enhanced search box below.
Wills By Type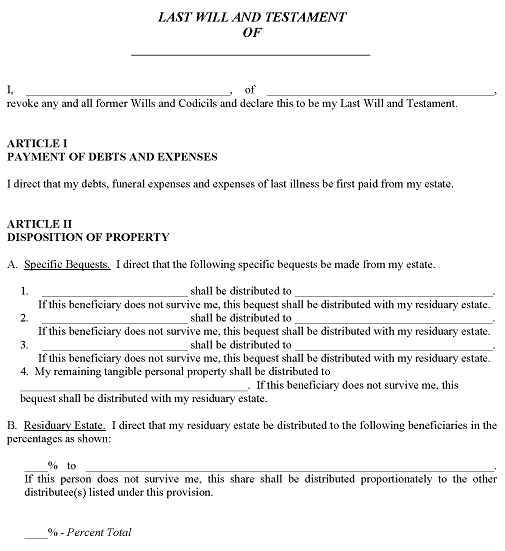 Blank Will Forms By State
Commonly Asked Questions Concerning Wills
Where can I get a blank will form?
To access the blank will forms that we offer, visit our Wills By Type section near the top of this page. If we don't have the particular type of blank will form you're searching for, we recommend visiting AARP or any reputable resource site.
Does a will need to be notarized?
In most cases the answer is no. At the present time the only state that requires a will to be notarized is Louisiana
How do I change my will?
A will can't really be changed but it can be modified by executing a Codicil To Will. The codicil allows you to delete sections from your previous will and also allows you to add new sections or conditions.
Can you make a will without a lawyer?
Of course you can make a will without a lawyer. The only true legal requirement is that the will be witnessed and/or notarized according to the laws of the state where it is being signed.
What happens if I don't name all of my children in the will?
All heck will break loose the second you die. Nothing brings out the nasties faster than a child finding out he or she was passed over in favor of other siblings. You should mention every child by name in the will, even if you have no intention of leaving that person any of your estate. One common phrase used in wills is "I leave you all of my love but no material possessions."
What is a self-proving will?
Most states consider a will to be "self-proving" if it was signed by the grantor as well as two witnesses. The witnesses must sign the will under penalty of perjury that they watched the person sign the will.

Some states do not allow for self-proving wills. In the District of Columbia, Vermont, Maryland, and Ohio, the option to consider a will self-proving is not available. In California, Indiana, and New Hampshire, it's not necessary to have a separate affidavit for witnesses to sign. The will itself usually includes a statement that under penalty of perjury, the witnesses state that to the best of their knowledge, the grantor was of legal age, not under undue influence, and mentally competent to sign the will.
Will Signing Requirements By State
Power of Attorney Forms — Will Forms — Trust Forms — Search For Legal Forms — Printable Legal Forms — Advance Directives — Personal Legal Forms — Business Legal Forms