This Simple Will Form is a legal document that can be signed ahead of time to decide what will happen to your estate when you pass away. This document is known as a Last Will and Testament. It is the most common type of will and is quite easy to fill out even without instructions.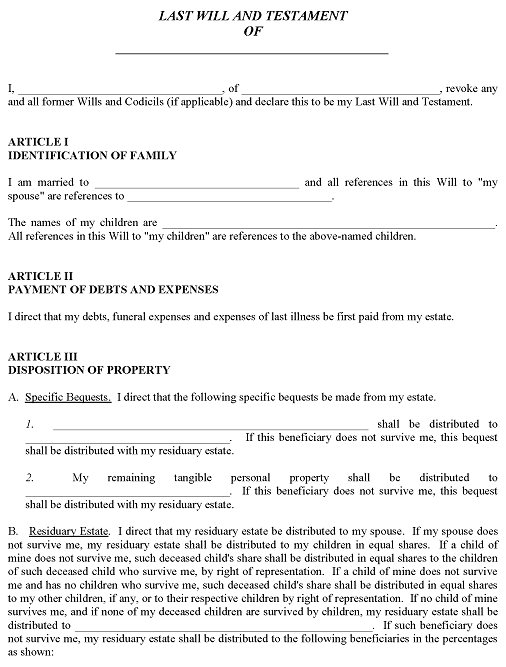 You can print the simple will form directly from our site then fill in the blanks. If you have the required software, you can personalize this legal document with Microsoft Word or a PDF editing program. This will enable you to type the required information directly into the will. To further personalize the simple will, you can also add or remove sections that aren't in line with your choices.
This simple will forms are specifically worded for married individuals with children or a single person with no children. The will for married persons provides that the estate will be distributed to the surviving spouse. The will for single persons allows you to name the beneficiaries to whom you would like to leave certain gifts or percentages of your estate.
We offer the free Simple Will Forms in Microsoft Word as well as a free PDF form. The Word file can be printed as is so you can fill in the blanks by hand. It can also be customized in case you want to change, add, or delete sections. The PDF version is chosen most often by users who want to print the document and fill in the blanks.
Click the link below to download the Simple Will Forms in Microsoft Word format . You may also create the Simple Will For Married or Single Persons using our free fillable PDF version. The PDF has fillable fields into which you can type the required information.
SIMPLE WILL FOR MARRIED PERSONS BY STATE
SIMPLE WILL FOR SINGLE PERSON BY STATE
These particular Simple Will Forms alongside a lot of other legal instruments offered free on this webpage are presented "as is" with no limited or express warranties. This consists of, yet is not confined to, warranty of merchantability or fitness for any type of sort of particular use.
The completely free Simple Will Forms were not established by a lawyer or law practice. It is your responsibility to identify if the documentation is legally proper for your criteria. If required, you have to also make specific that the form is correctly filled out as well as likewise notarized and/or witnessed.
As a web page visitor of this website, you assume all culpability in addition to responsibility for signing as well as utilizing this Simple Will Forms. We do not assume any type of legal duty or obligation for the accuracy and reliability or functionality of the legal instrument.
By downloading, printing, or implementing the Simple Will Forms, you recognize that we will not be held liable for damages or losses, whether indirect or absolute, coming from the loss of use or loss of revenues stemming from the application or granting of the legal forms or the form templates provided on this online site.
Will Forms — Trust Forms — Search For Legal Forms — Printable Legal Forms — Advance Directives — Personal Legal Forms — Business Legal Forms