We offer the most common types of Trust Forms. There are several types of trusts. The most common is a joint revocable trust established by parents or grandparents. Trusts can be revocable or irrevocable. There are several other types of trusts, most designed to reduce the financial impact of income taxes. These include the Asset Protection Trust, Charitable Trust, Constructive Trust, Special Needs Trust, Spendthrift Trust, and the Tax Pass-By Trust.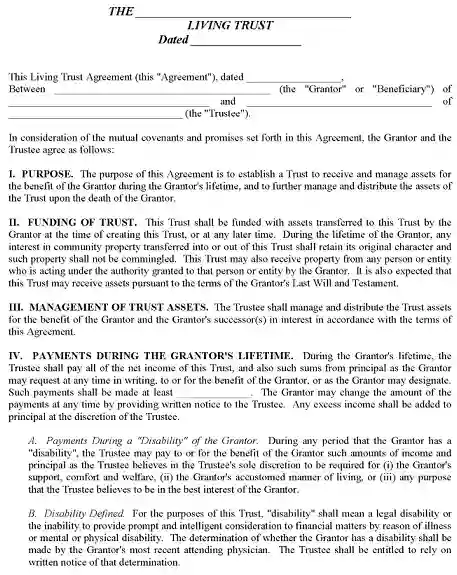 We do not offer legal forms for any type of business trust. Our forms consist of personal trusts commonly executed by families.
Click the type of trust form you would like to download. All of our trust forms are available in Microsoft Word and PDF. You can print the form and fill in the blanks or use the appropriate editing software to type your information directly into the form.
TRUST FORMS BY TYPE
DECLARATION OF TRUST FORMS BY STATE
JOINT LIVING TRUST FORMS BY STATE
LIVING TRUST AMENDMENT FORMS BY STATE
REVOCABLE LIVING TRUST FORMS BY STATE
REVOCATION OF LIVING TRUST FORM
REVOCATION OF LIVING TRUST FORMS BY STATE
REVOCATION OF TRUST FORMS BY STATE
Revocable trusts are also known as living trusts. A revocable trust allows the transfer of assets without probate, yet they allow you to retain control of the assets during your lifetime. A revocable trust is flexible and can be dissolved at any time. A revocable trust typically becomes irrevocable when the grantor dies.
Irrevocable trusts typically transfer assets out of your estate and often avoid estate taxes and probate. An irrevocable trust cannot be changed by the grantor after it has been executed. Once you execute an irrevocable trust, you lose control of the assets and cannot change any terms or decide to dissolve the trust.
Joint trusts are typically set up by a married couple. Unless specified in the trust agreement, a joint trust is revocable. Some agreements state that the trust can be revoked only by the consent of both spouses. This is a legal protection to cover both spouses in the event of a divorce. Grandparents often execute joint trusts to benefit their grandchildren. Often upon the death of both grandparents, the remainder of the trust is either given to the grandchildren if they are of age or remains in the trust until the grandchildren reach the age specified in the trust agreement.
Common Questions About Trusts
Can a Living Trust Be Irrevocable?

Absolutely. While most living trusts are revocable, you can set one up to be irrevocable. The most common reason for creating an irrevocable living trust is to avoid or reduce taxes. The most common types of irrevocable trusts set up to avoid or reduce taxes are the Bypass Trust, QTIP trust, QDOT trust, charitable trust, generation-skipping trust, life insurance trust, and various types of trusts that are considered grantor-retained interest. In addition to trusts created to avoid or reduce taxes, the most common types of trusts are the Spendthrift Trust and Special Needs Trust.
Can a Revocable Trust Be Changed?
Yes, a revocable trust can be changed. It can be changed, converted to an irrevocable trust, or outright discontinued but only by the original grantor(s) of the trust. Once the original grantor dies, no one can change, modify, or terminate the trust. If at all possible, trusts should be joint so one grantor still has control in the event that the other grantor passes away. if you decide to set up a joint trust, be sure that it remains revocable by the surviving grantor. If the trust becomes irrevocable after the first death, then the surviving grantor will not be able to change the trust in any way.
Can You Have Both a Will and a Living Trust?
Yes, you can absolutely have a will and a living trust. They are two totally different legal documents. The will outlines how your estate should be distributed after your death. When setting up both, pay special attention to any overlap concerning assets placed in the trust. The living trust becomes effective immediately upon signing. The will doesn't come into play until after you die.
Is a Living Trust Better Than a Will?
A living trust and a will are two totally different legal documents. Legally, neither document is superior to the other. There are distinct advantages to setting up a living trust, the most notable being the distribution of assets after your death. The will must normally go through probate, which is a lengthy legal process. Assets can't legally be distributed to the beneficiaries until probate closes. Assets held by the trust can be given directly to the beneficiaries without going through probate. If you have a large estate, we highly recommend consulting with a competent attorney who specializes in estate planning and taxation.
These completely free trust forms along with most other legal records presented free on this web page are supplied "as is" without intended or implied warranties. This also includes, yet is not limited to, warranty of merchantability or fitness for any type of kind of certain use.
These completely free trust forms were not generated by a legal professional or law practice. If the document is legally appropriate for your criteria, it is your responsibility to determine. If required, you have to likewise make sure that the form is properly filled out as well as likewise witnessed.
As a visitor of this website, you assume all culpability together with answerability for executing as well as using the trust forms. We do not assume any kind of legal liability or commitment for the accuracy and reliability or functionality of the legal instruments.
By saving, printing, or using any of the trust forms, you recognize that we will not be held accountable for injuries or losses, whether absolute or indirect, deriving from the loss of use or loss of revenues arising from the application or implementation of the legal forms or the form templates supplied on this site.
Will Forms — Trust Forms — Search For Legal Forms — Medical Power of Attorney — Advance Directives — Personal Legal Forms — Business Legal Forms