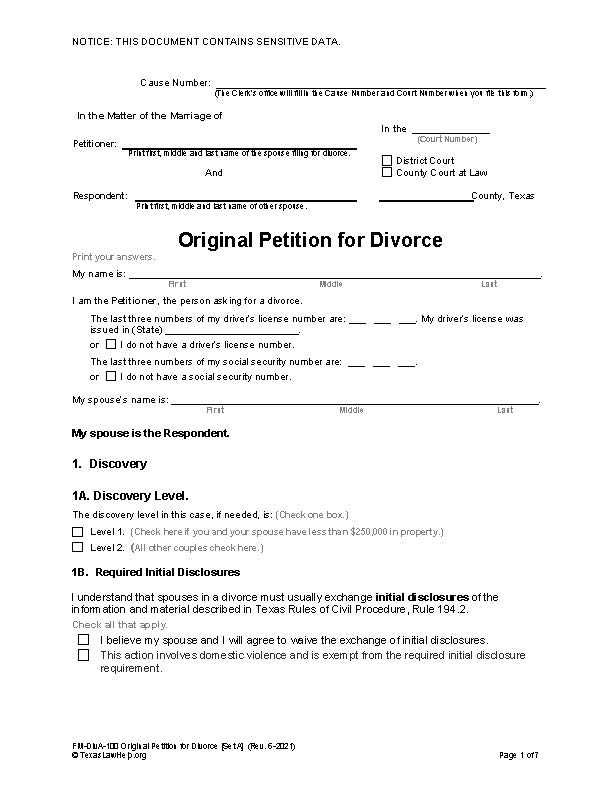 Divorces can be messy. VERY MESSY. Even if the divorce forms are available online, should you file for divorce yourself? In most cases the answer is no. If you have no children and your spouse agrees that divorce is the best option, then filing for an uncontested divorce without an attorney is probably you best and cheapest option.
Many states offer free printable divorce forms that can be filled in using a computer or tablet. The forms are called fill-in PDF, fillable PDF, or self-help PDF. To use this type of divorce form, you must have a PDF reader installed on your computer or mobile device. Some states offer blank PDF forms that you can print and fill out by hand. Some states offer NO divorce forms online. They require you to go to the local courthouse and obtain the forms. Rounding out the list are more the modernized states that have an online filing system that you can use to complete the required divorce forms.
Our free printable divorce forms were obtained directly from the state website whenever available to the public. Not all states offer divorce forms online. We've converted the odd-ball forms that we obtained so they're all in PDF format. Most are fill-in PDF forms so you can complete them using your computer or mobile device.
These forms are available in PDF format. You can print the forms and fill in the blanks. Many of the forms are Fill-In PDFs so you can type the information directly into the form.
Frequently Asked Divorce Questions
---
What is an uncontested divorce?
In an uncontested divorce, both spouses agree on everything pertaining to dissolution of the marriage. This includes support or alimony, child custody, child visitations, child support, division of marital assets, and division of marital debt. A divorce can also be uncontested if your spouse doesn't respond to the court paperwork.
An uncontested divorce is time-consuming and usually costly. In most cases you'll need to retain a divorce attorney if your spouse doesn't agree on major issues such as child support, custody, and visitations. It's highly unlikely your spouse will agree to an uncontested divorce if your marital assets are substantial.
---
What is a contested divorce?
In a contested divorce, both spouses do not agree on at least one of the issues involved in dissolving the marriage. This could be child support, alimony, division of marital assets, or just about anything. A divorce can also be contested simply because one spouse wants to stay together and is willing to let the court decide the fate of the marriage.
The most common reasons for a contested divorce are child support, child custody, alimony, and division of marital assets. Disagreeing on these matters increases stress, requires more court hearings, and often cranks up the attorney fees. If both spouses are willing to participate in mediation, a neutral mediator can be assigned to resolve the issues in dispute. If both parties agree with the proposals created by the mediator, the judge will normally accept the proposals and finalize the divorce.
Contested divorces are where divorce lawyers make most of their money. Retainer fees for a contested divorce can range from a few thousand to several hundred thousand dollars. Once both parties to the divorce "lawyer up", the case can drag on for months, if not years.
Divorce Forms For All 50 States