To file for divorce in Utah, you or your spouse must have lived in a single county in Utah for at least three months immediately before filing the petition for divorce. If custody of a minor child under the age of 18 is an issue, the child must have lived with one or both of the parents in the state of Utah for at least six months. There are exceptions to this rule.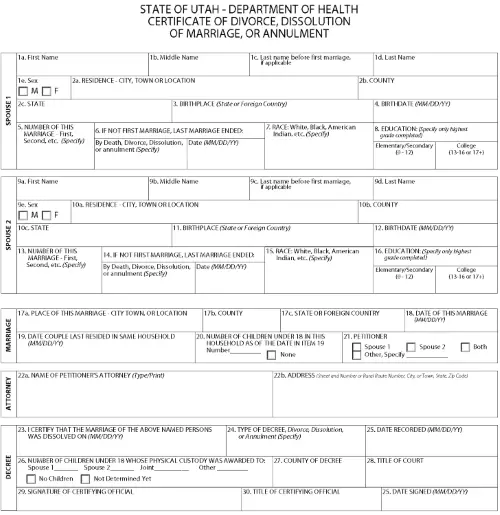 Grounds for divorce in Utah are:
Impotence
Adultery
Willful desertion
Willful neglect
Habitual drunkenness
Felony conviction
Cruel treatment that causes bodily injury or great mental distress
Irreconcilable difference
Incurable insanity, and
When the spouses have lived separately under a decree of separate maintenance from any state for three consecutive years without living together for even a day.
Utah law requires a mandatory 30-day waiting period between the date the petition is filed and the date the decree is signed. Either party can ask the court to waive the waiting period for extraordinary circumstances.
If the divorcing parties have minor children together, they must attend a divorce orientation class and a divorce education class before the final decree of divorce will be granted.
If you and your spouse have children between the ages of 9 and 12, you can enroll them in a free class to help them understand what is happening with the divorce and cope with the changes in their lives. The classes are taught by mental health professionals.
In the state of Utah, custody of minor children may be a separate case or part of a case for divorce, separate maintenance, temporary separation, annulment, parentage, adoption, neglect and dependency, or termination of parental rights. Depending on the type of case, a custody order can be issued by a district court or a juvenile court.
The Utah Courts offer a free online tool to file the required divorce forms online. To use the tool or for more information on the program, visit the Utah Courts Online Court Assistance Program.
Feel like you need a divorce lawyer? Visit our Divorce Lawyers in Utah page.