This Will For Remarried With Children is just one of the numerous unique legal documents that we furnish. Not everybody is lucky in life to discover love the first time they say I do. This will is specially worded and constructed for a guy or girl that has already been married twice. If you've been wed more than two times, one possibility would be to employ the services of a lawyer to create your will. You could also download the Word version of this will and add extra sections for the additional marriages.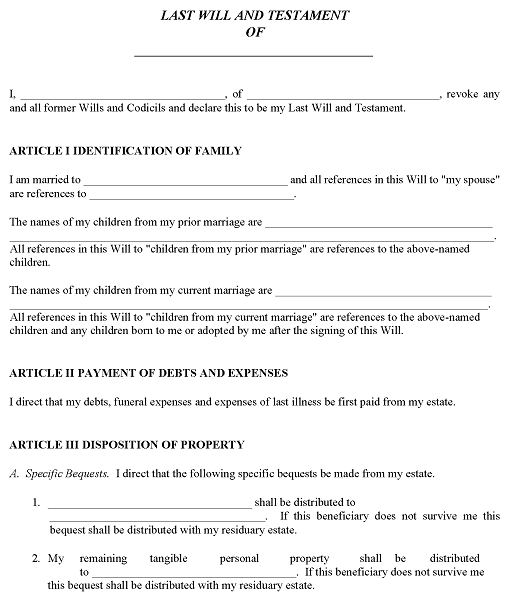 The Will For Remarried With Children is a legal document that stipulates what you would like to happen to your possessions when you pass away. It states to whom various assets must go as well as delegates an executor to manage the estate. You should certainly name each child in the will. Even if you don't mean to leave any of your possessions to a kid, you should certainly include his or her name in the will. Every child from the previous and also existing marriage really should be included in the will. While you are not legally commanded to list each child in the will, if you don't there's virtually certain to be a legal clash over the estate when you die.
This instrument allows you to include your present spouse by name. It likewise includes lines for the names of the children from your previous and current marriage. The will incorporates double legal trusts – one for the children of your previous marital relationship and also an additional trust for the youngsters of your existing marital relationship. You are not required to utilize those portions. To not establish a specific legal trust, simply indicate 0% as the portion of your estate that should go into the trust.
Make a number of copies of your will and provide them to individuals you trust, particularly the person you are assigning as your administrator. The best location to store your will is in a lockbox or safe deposit box in the bank. There is a well recorded case where a lady excavated her fairly wealthy father's resting place for the reason that she was convinced that's where her greedy brothers concealed the real will. It goes without saying, the will her siblings furnished left the sister practically nothing. Shunned children will do almost anything.
A fillable PDF has highlighted spots called fields into which you can type the mandated data. Simply click the vacant field and then enter the info. Our coders spent a great deal of time developing each and every of the fillable PDFs that we currently provide and are constantly working to add even more to our collection.
Take the uncertainty out of preparing an instrument by using our Fillable PDF forms. Type in your answers to a couple easy questions and magically the info will conveniently be inserted right into the finished instrument. Our coders are constantly to increase our selection of forms that are available for usage with our Fillable PDF forms. Membership is needed for the Fillable PDF forms.
Click the name of the state for which you'd like to download the Will For Remarried With Children Form. You may also create the Will For Remarried With Children using our free fillable PDF version. The PDF has fillable fields into which you can type the required information.
Alabama Will For Remarried With Children
Alaska Will For Remarried With Children
Arizona Will For Remarried With Children
Arkansas Will For Remarried With Children
California Will For Remarried With Children
Colorado Will For Remarried With Children
Connecticut Will For Remarried With Children
Delaware Will For Remarried With Children
Florida Will For Remarried With Children
Georgia Will For Remarried With Children
Hawaii Will For Remarried With Children
Idaho Will For Remarried With Children
Illinois Will For Remarried With Children
Indiana Will For Remarried With Children
Iowa Will For Remarried With Children
Kansas Will For Remarried With Children
Kentucky Will For Remarried With Children
Louisiana Will For Remarried With Children
Maine Will For Remarried With Children
Maryland Will For Remarried With Children
Massachusetts Will For Remarried With Children
Michigan Will For Remarried With Children
Minnesota Will For Remarried With Children
Mississippi Will For Remarried With Children
Missouri Will For Remarried With Children
Montana Will For Remarried With Children
Nebraska Will For Remarried With Children
Nevada Will For Remarried With Children
New Hampshire Will For Remarried With Children
New Jersey Will For Remarried With Children
New Mexico Will For Remarried With Children
New York Will For Remarried With Children
North Carolina Will For Remarried With Children
North Dakota Will For Remarried With Children
Ohio Will For Remarried With Children
Oklahoma Will For Remarried With Children
Oregon Will For Remarried With Children
Pennsylvania Will For Remarried With Children
Rhode Island Will For Remarried With Children
South Carolina Will For Remarried With Children
South Dakota Will For Remarried With Children
Tennessee Will For Remarried With Children
Texas Will For Remarried With Children
Utah Will For Remarried With Children
Vermont Will For Remarried With Children
Virginia Will For Remarried With Children
Washington Will For Remarried With Children
Washington DC Will For Remarried With Children
West Virginia Will For Remarried With Children
Wisconsin Will For Remarried With Children
Wyoming Will For Remarried With Children
Will Forms — Trust Forms — Search For Legal Forms — Printable Legal Forms — Advance Directives — Personal Legal Forms — Business Legal Forms