Our absolutely free Codicil To Will form can be utilized to make revisions to a will that you formerly completed. You can include all new clauses to the will or make adjustments to previous stipulations. Conditions or circumstances might have changed that warrant making adjustments to a will that you earlier performed. This is somewhat common. You should check with a qualified attorney to ensure that this Codicil To Will is legally adequate for your demands.
Table of Contents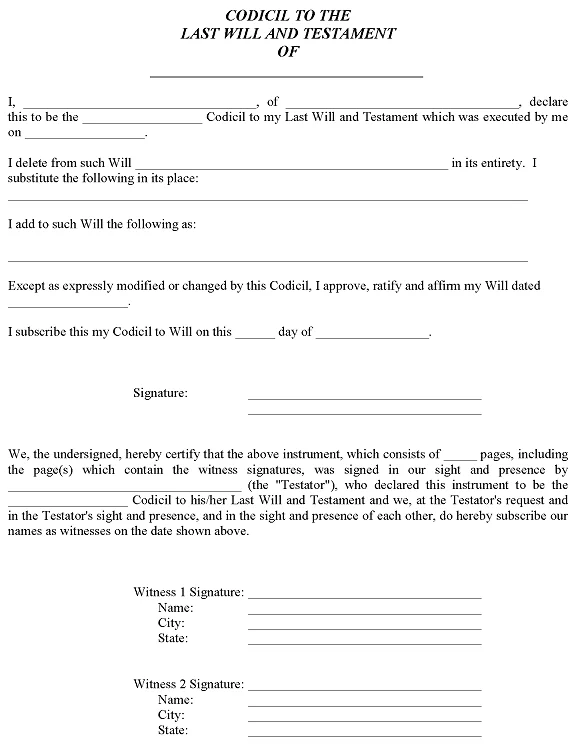 Can I Have More Than One Codicil To My Will?
Technically you CAN have more than one codicil but it's not wise if you believe your estate might be contested by one of the beneficiaries. Each and every codicil adds more leeway for misinterpretation of your actual intentions. If you execute two codicils that both change the beneficiaries of your estate, chances are at least one beneficiary is going to contest the first codicil, the second one, or both. When in doubt, it's best to create a new will. In it you should reference the original will and state that it is now null and void.
Codicil Definition and Meaning
A codicil is a legal document executed to make modifications to an existing will, most often referred to as a Last Will and Testament. To define codicil, we don't need to look in law books. It is a universally-accepted legal document that can be used to amend any legally-executed will.
How To Write a Codicil To a Will
To write a codicil to a will, you first must be the person who signed the original will. You cannot write a codicil to someone's else will, not even your spouse's. The codicil must reference the original will including the date on which it was signed. You should also indicate whether this is the first codicil to the will or if you've already executed other codicils.
What is a Codicil to a Will?
A codicil is an addendum or addition to a will. It can be used to add, remove, or modify the existing conditions of the will. A codicil is most often used to change the disbursement of the estate or assets that will go into the estate once the person passes away. Codicils can also be used to add or remove beneficiaries.
---
We provide the totally free Codicil To Will in Microsoft Word as well as a free PDF file. The Word file will electronically download so examine the folder where downloads are held on your desktop computer or mobile gadget. The PDF will open in a brand-new window so you can print or save it.
Click the link below to download the Codicil To Will in Microsoft Word . You may also create the Codicil To Will using our free fillable PDF version. The PDF has fillable fields into which you can type the required information.
WORD – Codicil To Will Form
PDF – Codicil To Will Form
Codicil To Will Forms By State
This specific totally free Codicil to Will Form and other legal forms available on this web site are provided "as is" without any express or implied warranty of any kind. This includes, but is not restricted to, the warranty of merchantability or fitness for any specific function.
It is your responsibility to figure out if the Codicil to will Form is lawfully appropriate for your legal needs and circumstances. While the codicil is a basic type utilized in all states, it is your duty to guarantee that it is correctly finished and witnessed.
As a user of this specific web page, you assume all duty and liability for using this Codicil to Will Form and other legal forms attained from the websites.
By saving, printing, or saving this Codicil to Will you acknowledge that we do not assume any legal liability or liability for the correctness, dependability, or effectiveness of the legal forms produced by the legal forms or design templates that we provide.
This particular Codicil to Will was not designed by a lawyer, attorney, or law organization. By using the form you acknowledge that we are not accountable for damages or compensation, whether direct, indirect, or incidental, emerging from the loss of use or profits emerging out of or in connection with the use or execution of the legal forms or the form design templates.
You ought to check with a proficient legal professional to make sure that this Codicil To Will document is legally adequate for your requirements.
Will Forms — Trust Forms — Search For Legal Forms — Health Care Power of Attorney — Advance Directives — Personal Legal Forms — Business Legal Forms