This Example of a Will Form is a legal document that can be used to decide ahead of time what happens to your estate when you pass away. A common will is also known as Last Will and Testament. Even if this is the first will you've ever signed, it is still considered your "last" will and testament. If you are single and have no children, try our Simple Will For Single Person.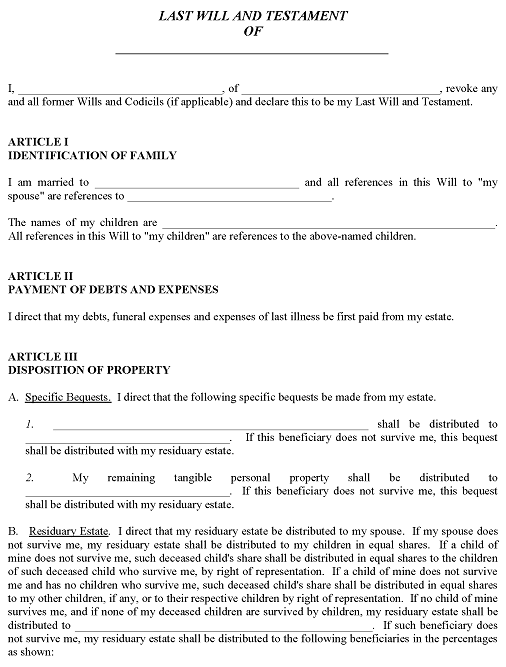 This is an example of a will that you can print then fill in the blanks. If you have the appropriate software, you can also customize the document using Microsoft Word or a PDF editing program. This will allow you to type the information directly into the form. You can also add or remove sections that aren't relevant to your situation.
This particular document is specifically worded for a married person with one or more children. There are lines to list your spouse and the name or names of the child or children. The will provides that your estate will be distributed to your spouse. If your spouse is already deceased, the will includes specific provisions listing to whom your estate should go.
We offer the free Example of a Will in Microsoft Word as well as a free PDF form. The Word file can be printed as is so you can fill in the blanks by hand. It can also be customized in case you want to change, add, or delete sections. The PDF version is chosen most often by users who want to print the document and fill in the blanks.
Click the link below to download the Example of a Will in Microsoft Word format . You may also create the Example of a Will using our free fillable PDF version. The PDF has fillable fields into which you can type the required information.
WORD – Example of a Will Word
PDF – Example of a Will PDF
This Example of a Will form as well as most other legal forms presented on this internet site are supplied free "as is" without any explicit or implied warranties. This includes, yet is not minimized to, warranty of merchantability or fitness for any type of sort of specific usage.
This completely free Example of a Will form was not put together by an attorney or law practice. If the instrument is properly appropriate for your necessities, it is your duty to identify.
You should furthermore make certain that the form is correctly completed and likewise notarized and/or witnessed if needed.
As a website visitor of this site, you assume all culpability together with accountability for applying this Example of a Will form and finalizing.
We do not assume any type of legal liabilities or commitment for the precision or functionality of the legal file.
By obtaining, printing, or implementing this Example of a Will form, you recognize that we will not be held responsible for losses or damages, whether indirect or absolute, deriving from the loss of use or loss of earnings occurring from the usage or granting of the legal forms or the form templates used on this website.
Will Forms — Trust Forms — Search For Legal Forms — Printable Legal Forms — Advance Directives — Personal Legal Forms — Business Legal Forms