A Pour Over Will specifies that all property that passes through the will at the time of your death be transferred to your trust. It is "poured over" into the trust. The property and assets are then distributed to the beneficiaries named in the trust.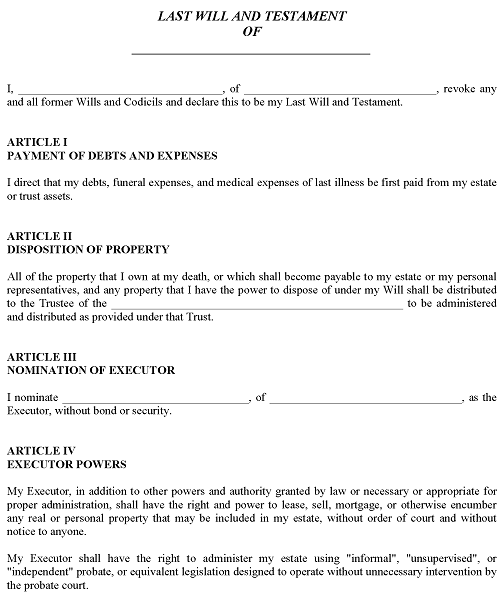 Instead of directing the dispersal of your estate, a pour-over will stipulates that any and all possessions that have actually not been transferred into your revocable living trust ought to be dispersed to the trust. The legal document designates your trust as the recipient of any residential or commercial property it does not currently manage. The distribution does not pass straight to a particular person, which is the most typical approach utilized by the majority of conventional wills.
The main downside to pour-over wills is that your estate must go through probate. Property intended for your living trust may remain in limbo in probate before it can be distributed by the trust. This forces the trust to wait months (or even longer) to receive the property. If you're considering executing a living will, we highly recommend consulting an attorney.
Click the state for which you'd like to download the Pour Over Will.
The free Pour Over Will as well as most of the other legal files offered on this internet site are presented "as is" without distinct or implied warranties. This consists of, yet is not limited to, warranty of merchantability or fitness for any type of sort of specific use.
This particular Pour Over Will was not formed by legal professional or law practice. If the document is legitimately appropriate for your demands, it is your duty to establish. You need to similarly make sure that the form is accurately filled in and likewise notarized and/or witnessed if mandated.
As an online site visitor of this site, you assume all liability in addition to accountability for using this Pour Over Will and also completing. We do not assume any legal liabilities or obligation for the exactitude or effectiveness of the legal form.
By transferring, printing, or executing this Pour Over Will, you acknowledge that we will not be held accountable for damages or losses, whether indirect or absolute, stemming from the loss of use or loss of revenues cropping up from the use or signing of the legal forms or the form templates offered on this site.
Will Forms — Trust Forms — Search For Legal Forms — Medical Power of Attorney — Advance Directives — Personal Legal Forms — Business Legal Forms