We offer the Free Do-It-Yourself Will Kit for both married and single persons. This is a standard will, which is called a "last will and testament." The will specifies how the person's assets will be distributed and who will be in charge of administering the estate. The will is fairly straightforward and easy to complete. It is our recommended Do-It-Yourself Will Kit For Seniors.
Frequently Asked Questions About Do-It-Yourself Will Kits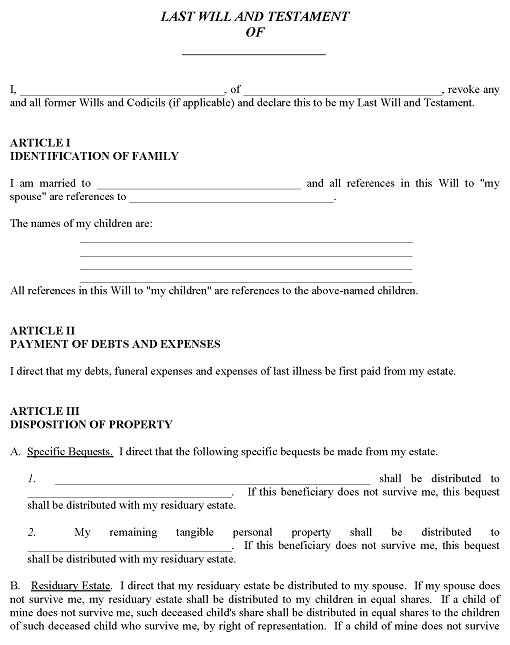 Do-It-Yourself Will Kits
We offer the do-it-yourself will kit in both PDF and Microsoft Word. Both versions are free, as is every other form on our site. Click the form below that you'd like to download free.
Do-It-Yourself Will Kit For Married Person
Do-It-Yourself Will Kit For Single Person
Frequently Asked Questions About Do-It-Yourself Will Kits
Can I write my own will at home?
Yes, you can write your own will as long as it follows the standard requirements. Among other requirements, the will must be in writing (or typed), it must be signed by you, and two persons not related to you or named as beneficiaries in the will must witness you signing the will. You must be mentally capable of understanding what the will is and you must be signing it voluntarily, without influence from anyone. Additionally, to be a "last will and testament", the beginning of the will must state that it revokes all other wills and codicils you might have already executed.
Does Walmart sell do-it-yourself will kits?
This was a question we found online and immediately had to Google it. Yes, Walmart sells fancy do-it-yourself will kits. You can also find them on Staples, eBay and even Amazon. The cost of the kits varies anywhere from $14 to $50. To justify the cost, the sellers include beautifully printed brochures on what to expect when a loved one passes away.
Is the do-it-yourself will kit legal?
Absolutely! The kit is legal. Preparing your own will is legal. However, to ensure that the will itself is prepared properly, be sure to check the Will Signing Requirements By State listed below. While most states allow a will to be witnessed by two persons, the state of Louisiana also requires that it be notarized.
Why do some lawyers recommend not using a do-it-yourself will kit?
Lawyers make money providing legal advice and preparing legal documents. It's not unusual for an attorney to charge $1000+ to prepare a simple will. While most younger lawyers are aware that just about everything is available online, some believe attorneys should be used to prepare all legal documents. The availability of online legal forms is taking cash out of the pockets of many family planning and estate attorneys.
We must include the following legal disclaimers:
This Do-It-Yourself Will Kit and other legal forms available on this website are provided "as is" without any express or implied warranties of any kind including, but not limited to, warranty of merchantability or fitness for any particular purpose. It is your responsibility to determine if the Arkansas Simple Will For Married Person is legally adequate for your needs.
As a user of this website, you assume all responsibility and risk for the use of this Do-It-Yourself Will Kit and any other legal form obtained from the site. We do not assume any legal liability or responsibility for the accuracy or usefulness of the legal forms generated by the templates we offer. We will not be liable for damages or compensation, whether direct, indirect, or incidental, resulting from the loss of use or profit arising out of or in connection with the use or execution of the legal forms or the form templates.
Will Signing Requirements By State
Power of Attorney Forms — Will Forms — Trust Forms — Search For Legal Forms — Printable Legal Forms — Advance Directives — Personal Legal Forms — Business Legal Forms