The Healthcare Proxy Form is recognized by all 50 states. Some states use different names such as Healthcare Agent, Healthcare Representative, and Healthcare Power of Attorney. While these forms were obtained from a major hospital, it is your responsibility to ensure that the free healthcare proxy will be accepted by the hospital or healthcare providers with which you entrust your medical care. Many states will not accept a healthcare proxy if it was signed in another state.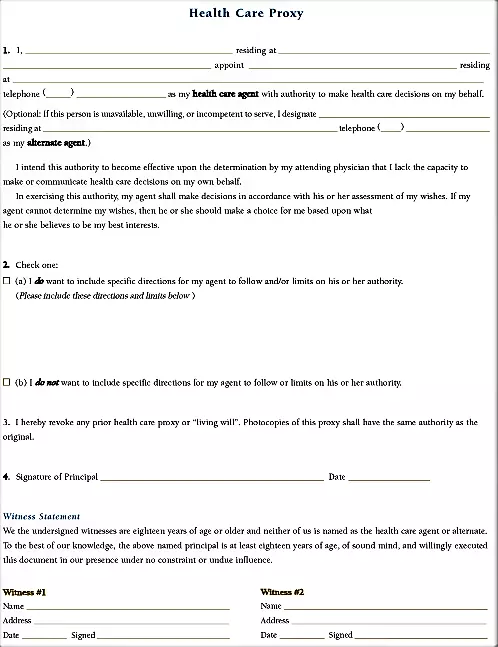 A healthcare proxy is a legal document that permits you to designate another person or persons as your health care representative to make healthcare decisions on your behalf if you are no longer physically or mentally able to do so. You allow your healthcare agent the legal authority to make medical decisions for you if you are unable to speak for yourself.
Unless otherwise stated in the proxy form, the healthcare proxy becomes effective only when you are unable to make decisions for yourself, as determined by a physician. Until that time, you can make your own healthcare decisions. The healthcare proxy can be terminated orally, and you have the right to sign a new one if you are physically and mentally able to do so at the time of the signing.
We offer the completely free Healthcare Proxy in PDF format only. If you would like the document in Microsoft Word or any other format, you can convert it using an appropriate document editing program.
Frequently Asked Questions Concerning The Healthcare Proxy
Can a healthcare proxy or agent, override the patient?
YES. This is why you must carefully choose the person you want to be your healthcare proxy. Your healthcare proxy can override any decision you make as well as those of your family members, friends, and medical providers.
Can I have more than one healthcare proxy?
You are entitled to have as many healthcare representatives or agents as you'd like. It is wise to name at least one alternative in the proxy in the event that your first choice is unavailable. It is unwise (but not illegal) to sign two different healthcare proxy forms. The outcome would be messy and confusing to your medical team.
For how long is a healthcare proxy valid?
Unless otherwise stated in the proxy form, the healthcare proxy will remain in effect indefinitely. It does not need to be renewed, and it doesn't expire.
When does a healthcare proxy take effect?
Unless otherwise stated in the proxy form, the healthcare proxy becomes effective only when you become unable to make decisions. The determination must be made by a physician.
Click the link below to download the Free Healthcare Proxy Form for the state in which it will be signed. If you intend to move after signing the proxy form, be sure to check with the state to which you are moving. You might need to sign a new form in that state.
Arkansas Healthcare Proxy Form
California Healthcare Proxy Form
Colorado Healthcare Proxy Form
Connecticut Healthcare Proxy Form
Delaware Healthcare Proxy Form
Illinois Healthcare Proxy Form
Kentucky Healthcare Proxy Form
Louisiana Healthcare Proxy Form
Maryland Healthcare Proxy Form
Massachusetts Healthcare Proxy Form
Michigan Healthcare Proxy Form
Minnesota Healthcare Proxy Form
Mississippi Healthcare Proxy Form
Missouri Healthcare Proxy Form
Nebraska Healthcare Proxy Form
New Hampshire Healthcare Proxy Form
New Jersey Healthcare Proxy Form
New Mexico Healthcare Proxy Form
New York Healthcare Proxy Form
North Carolina Healthcare Proxy Form
North Dakota Healthcare Proxy Form
Oklahoma Healthcare Proxy Form
Pennsylvania Healthcare Proxy Form
Rhode Island Healthcare Proxy Form
South Carolina Healthcare Proxy Form
South Dakota Healthcare Proxy Form
Tennessee Healthcare Proxy Form
Virginia Healthcare Proxy Form
Washington Healthcare Proxy Form
West Virginia Healthcare Proxy Form
Wisconsin Healthcare Proxy Form
Will Forms — Trust Forms — Search For Legal Forms — Printable Legal Forms — Advance Directives — Personal Legal Forms — Business Legal Forms