The free Pony Bill of Sale documents the transfer of ownership of a pony from the Seller to the Buyer. This form is specifically worded for the sale of a pony. If you're selling a different type of animal, we offer bills of sale for a horse, goat, cat, dog, kitten, and puppy.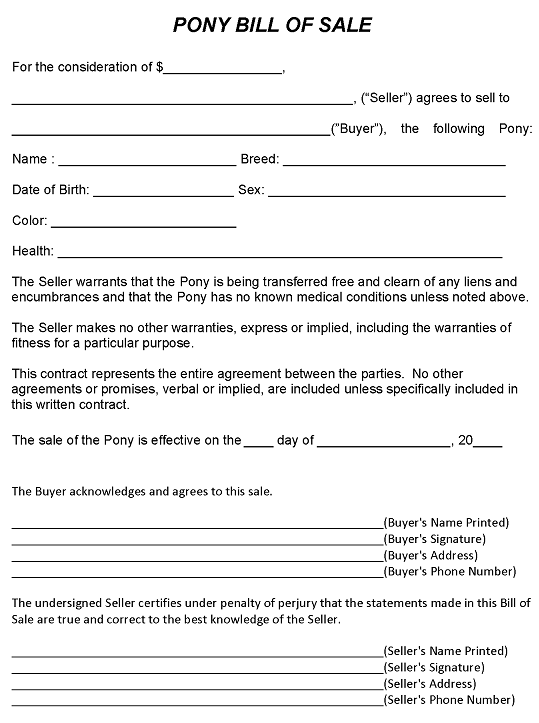 Do you positively need the Pony bill of sale? Perhaps not however you really should always offer protection to yourself. As the seller, why would you let someone else take something of value that could lawfully be traced back to you? You might need that bill of sale as confirmation that you changed ownership to someone else. As the buyer, you really should be sure to ask for a bill of sale. The Pony bill of sale will be your best defense if there's any sort of doubt over the ownership or transfer of the property.
We provide the free Pony Bill of Sale in Microsoft Word as well as a free PDF form. The PDF version is also free but requires more expertise in editing documents.
A fillable PDF has actually spots called fields into which you can type the requested information. Our developers invested a lot of time making the extensive library of fillable PDFs that we supply and are actively working on creating more.
Our fillable PDF forms take the guesswork out of preparing any type of type of document, whether it's a living will, power of attorney, company form, or bill of sale. Type in the answers to a couple of simple concerns and the details will be placed into your custom-made file. Our web developers are continuously working to contribute to our selection of Fillable PDF forms.
Click the hyperlink shown below to download the Pony Bill of Sale in Microsoft Word for absolutely free. You may also create the Pony Bill of Sale using our free fillable PDF version. The PDF has fillable fields into which you can type the required information.
WORD – Pony Bill of Sale WORD
PDF – Pony Bill of Sale PDF
We will need to integrate the list below legal terminology:
This Pony bill of sale was crafted by a experienced and seasoned business owner, not a legal representative or legal specialist. A lot of states do not have particular requirements for a bill of sale unless it is for an automobile, boat, or other property that requests a title issued by the state in which the buyer resides.
We absolutely recommend having the Pony bill of sale notarized by a notary public, particularly if you are not acquainted with the other party associated with the sale. The notary will confirm the identity of both the new buyer and the seller so both parties are more content concluding the sale.
The Pony bill of sale and other legal forms readily available on this website are offered "as is" with no conveyed or implied warranties of any kind. This includes, however is not restricted to, warranty of fitness for any specific usage or warranty of merchantability. It is your liability to verify if the Pony Bill of Sale is legally adequate for your requirements.
By saving or using the Pony bill of sale, you assume all responsibilities and risks for the use of the file. We do not assume any sort of legal duty or liability for the accuracy or effectiveness of this legal form. We will not be liable for damages or financial compensation, whether direct, indirect, or incidental, resulting from the loss of usage or revenue arising out of or in connection with the usage or execution of the Pony bill of sale or any sort of other legal form or form design template made available on this site.
Power of Attorney Forms — Will Forms — Trust Forms — Search For Legal Forms — Printable Legal Forms — Advance Directives — Personal Legal Forms — Business Legal Forms