This Hawaii Medical Power of Attorney Form can be used to appoint someone else to make medical decisions on your behalf in the event that you are unable to make the decisions for yourself. In Hawaii this document is called a Health Care Power of Attorney. It is your responsibility to accurate complete the Hawaii Medical Power of Attorney Form and ensure that it is witnessed or notarized if required by state law.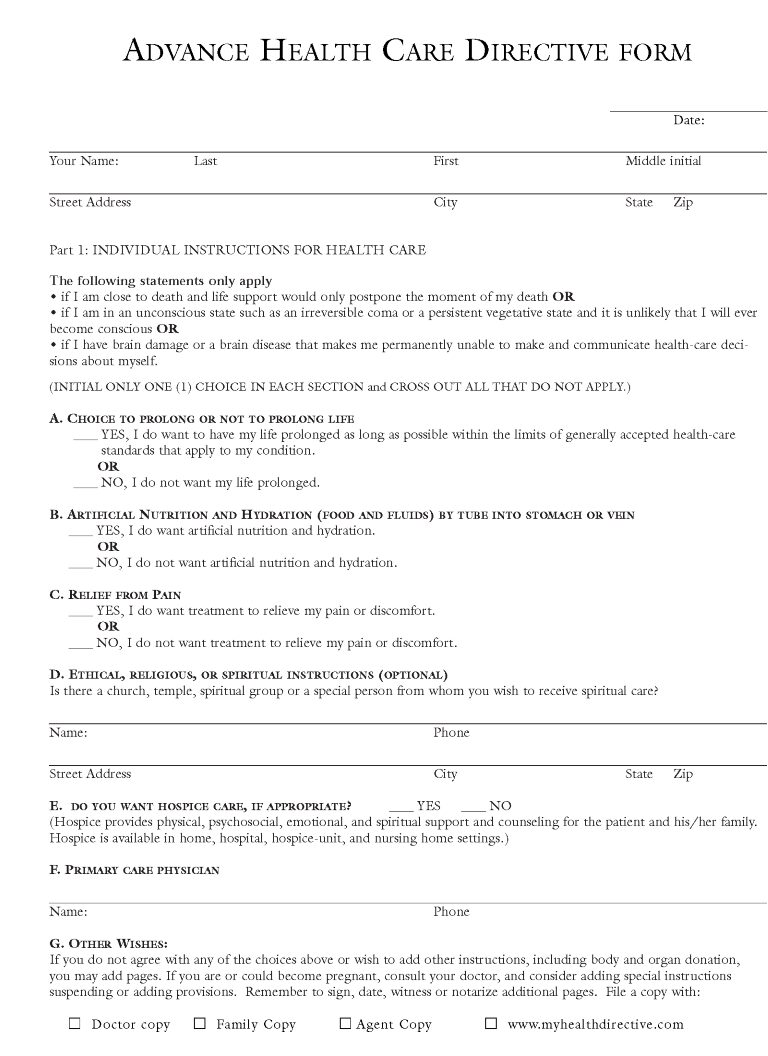 The Hawaii Medical Power of Attorney is extremely uncomplicated to figure out. The majority of the time required will be considering beforehand which preferences you want to be applied if or when the time arrives. Do you wish to stay on life support systems even if there is no brain function? Do you really want medical representatives trying to revive you if you go into heart failure arrest? Do you wish to donate your organs and tissues after you've died? When you're healthy and in a clear frame of mind, the most ideal time to make these declarations is.
It is imperative that you discuss your medical decisions to the person you are appointing as your medical proxy. The person positively needs to know what your preferences are for as many imaginable circumstances as possible. Exactly how long do you wish to continue with life support prior to wanting to discontinue life support? Do you have any worries of specific medical treatments or treatment plans? Do you want to breath by yourself at all times or is a breathing device okay?
A fillable PDF has specially created spaces called fields. Simply click the vacant field and type in the called for relevant information. The font size of the information you input expands to the size of characters inputted into the field. If you have a long name or type in a huge amount of information into what appears like a brief field, the text will still fit in the provided area.
We furnish the cost-free Hawaii Medical Power of Attorney in Microsoft Word as well as a free PDF form. The Word file will immediately download so check out the location where files are usually stored on your personal computer or mobile device. The PDF will open up in a new browser tab so you can print or download it.
Click the link underneath this paragraph to download the totally free Hawaii Medical Power of Attorney in Microsoft Word format. You may also create the Hawaii Medical Power of Attorney using our free fillable PDF version. The PDF has fillable fields into which you can type the required information.
WORD – Hawaii Medical Power of Attorney Form
PDF – Hawaii Medical Power of Attorney Form
This Hawaii medical power of attorney form in addition to every various other legal documents offered free on this web page are presented free "as is" with no limited or specific warranties. This includes, yet is not restricted to, warranty of merchantability or fitness for any type of kind of details use.
This Hawaii medical power of attorney form was not produced by an attorney or law practice. It is your obligation to identify if the record is properly appropriate for your criteria. You need to likewise make certain that the form is completed filled out and additionally witnessed and/or notarized if required.
As a site visitor of this website, you assume all liabilities together with responsibility for employing this Hawaii medical power of attorney form and also completing. We do not assume any type of legal liability or responsibility for the accuracy and precision or effectiveness of the legal document.
By transferring, printing, or implementing this Hawaii medical power of attorney form, you recognize that we will not be held accountable for injuries or losses, whether indirect or absolute, coming from the loss of use or loss of revenues developing from the application or execution of the legal forms or the form templates offered on this webpage.
Will Forms — Trust Forms — Search For Legal Forms — Health Care Power of Attorney — Advance Directives — Personal Legal Forms — Business Legal Forms