A general Durable Power of Attorney both authorizes someone to act in a wide range of legal and business matters and remains in effect even if you are incapacitated. This type of document is also known as a durable power of attorney for finances. The power of attorney can take effect immediately or can become effective only if you are incapacitated.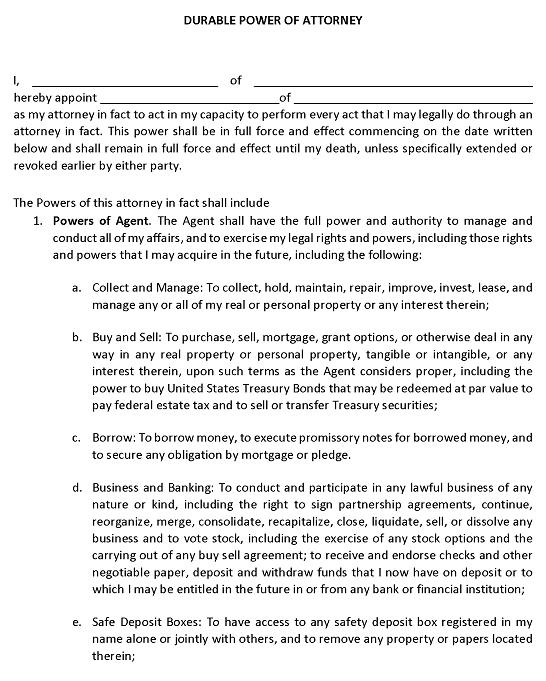 If a power of attorney is durable, it remains in effect if you become incapacitated, such as due to illness or an accident. Durable powers of attorney help you plan for medical emergencies and declines in mental functioning and can ensure that your finances are taken care of. Having these documents in place helps eliminate confusion and uncertainty when family members have to make tough medical decisions.
Durable Power of Attorney Frequently Asked Questions
What does a durable power of attorney mean?
An ordinary power of attorney expires if you become mentally incompetent. A durable power of attorney includes special wording that makes it effective even if that happens. The purpose of a durable POA is to plan for medical emergencies, cognitive decline later in life, or other situations where you're no longer capable of making decisions.
What does the term "durable" mean?
The term "durable" means the authority continues even if the person who signed the document becomes physically or mentally incompetent.
What is the negative form of durable power of attorney?
The negative form of durable should be short or limited. The legal document would be a limited or special power of attorney. The authority granted would be for a specific period of time or to perform a specific act such as registering a car.
The person you appoint is known as your agent, or attorney-in-fact, although the individual or company doesn't have to be a lawyer. An attorney-in-fact can handle many types of transactions.
Click the state for which you are interested in a free printable Blank Durable Power of Attorney form.
Durable Power of Attorney Forms For All 50 States
Alabama Durable Power of Attorney
Alaska Durable Power of Attorney
Arizona Durable Power of Attorney
Arkansas Durable Power of Attorney
California Durable Power of Attorney
Colorado Durable Power of Attorney
Connecticut Durable Power of Attorney
Delaware Durable Power of Attorney
Florida Durable Power of Attorney
Georgia Durable Power of Attorney
Hawaii Durable Power of Attorney
Idaho Durable Power of Attorney
Illinois Durable Power of Attorney
Indiana Durable Power of Attorney
Iowa Durable Power of Attorney
Kansas Durable Power of Attorney
Kentucky Durable Power of Attorney
Louisiana Durable Power of Attorney
Maine Durable Power of Attorney
Maryland Durable Power of Attorney
Massachusetts Durable Power of Attorney
Michigan Durable Power of Attorney
Minnesota Durable Power of Attorney
Mississippi Durable Power of Attorney
Missouri Durable Power of Attorney
Montana Durable Power of Attorney
Nebraska Durable Power of Attorney
Nevada Durable Power of Attorney
New Hampshire Durable Power of Attorney
New Jersey Durable Power of Attorney
New Mexico Durable Power of Attorney
New York Durable Power of Attorney
North Carolina Durable Power of Attorney
North Dakota Durable Power of Attorney
Ohio Durable Power of Attorney
Oklahoma Durable Power of Attorney
Oregon Durable Power of Attorney
Pennsylvania Durable Power of Attorney
Rhode Island Durable Power of Attorney
South Carolina Durable Power of Attorney
South Dakota Durable Power of Attorney
Tennessee Durable Power of Attorney
Texas Durable Power of Attorney
Utah Durable Power of Attorney
Vermont Durable Power of Attorney
Virginia Durable Power of Attorney
Washington Durable Power of Attorney
West Virginia Durable Power of Attorney
Wisconsin Durable Power of Attorney
Wyoming Durable Power of Attorney
Will Forms — Trust Forms — Search For Legal Forms — Printable Legal Forms — Advance Directives — Personal Legal Forms — Business Legal Forms