The Boat Bill of Sale documents the transfer of ownership of a used boat from the Seller to the Buyer. The document also includes information about the motor and trailer. If the motor and/or trailer is not included in the sale, you can skip those sections or enter N/A.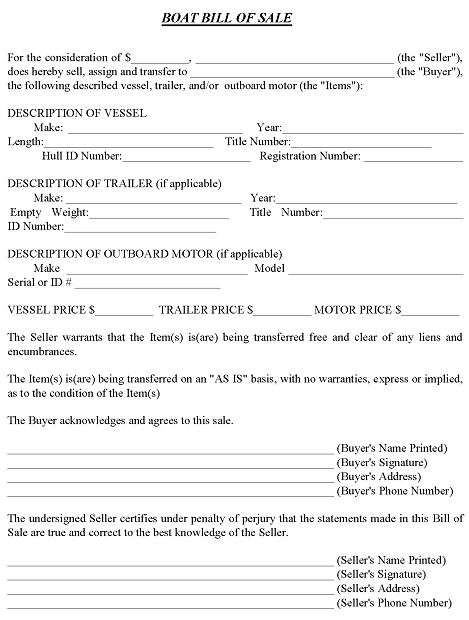 Do you absolutely have to have the Boat bill of sale? You may possibly need to have that bill of sale as validation that you converted ownership to somebody else. If there's any sort of doubt over the ownership or transfer of the property, the bill of sale will be your optimal defense.
We provide the totally free Boat Bill of Sale in Microsoft Word as well as a free PDF form. The Word file will instantly download so inspect the folder where downloads are saved on your computer system or mobile phone. The PDF will open in a brand new window so you can print or download it.
What are fillable PDFs? A fillable PDF has areas called fields into which you can type out the needed info. Simply click in the field and type in the needed info. Our designers invested a great deal of time putting together the extensive library of fillable PDFs that we provide and are actively working on adding more.
Our fillable PDF forms take the guesswork out of preparing any type of type of legal form, whether it's a living will, power of attorney, business form, or bill of sale. Respond to a few basic concerns and the information will be inserted into your custom file. Our programmers are incessantly working to contribute to our list of hundreds various forms readily available with our Fillable PDF forms.
Boat Bill of Sale Download Links
Click the web link beneath to download and save the Boat Bill of Sale in Microsoft Word format for absolutely free. You may also create the Boat Bill of Sale using our free fillable PDF version. The PDF has fillable fields into which you can type the required information.
WORD – Boat Bill of Sale Word
PDF – Boat Bill of Sale PDF
Boat Bill of Sale Forms For All 50 States
Massachusetts Boat Bill of Sale
New Hampshire Boat Bill of Sale
North Carolina Boat Bill of Sale
North Dakota Boat Bill of Sale
Pennsylvania Boat Bill of Sale
Rhode Island Boat Bill of Sale
South Carolina Boat Bill of Sale
South Dakota Boat Bill of Sale
West Virginia Boat Bill of Sale
This Boat bill of sale was put together by a knowledgeable and seasoned business owner, not a lawyer or attorney. A lot of states do not have individual requirements for a bill of sale unless it includes an automobile, boat, or other property that requires a title issued by the state in which the buyer resides.
We highly recommend having the Boat bill of sale notarized by a notary public, specifically if you are not familiar with the other person(s) associated with the sale. The notary will validate the identity of both the prospective buyer and the seller so both parties are more relaxed finalizing the sale.
The Boat bill of sale and other legal forms readily available on this site are provided "as is" with no express or suggested warranties of any kind of kind. This includes, however is not restricted to, warranty of fitness for any sort of particular usage or warranty of merchantability.
If the Boat Bill of Sale is lawfully appropriate for your particular situation, it is your duty to determine. By downloading or using the Boat bill of sale, you assume all liabilities and exposures for using the document. We do not assume any kind of legal obligation or liability for the precision or effectiveness of this legal form.
We will not be liable for damages or financial compensation, whether direct, indirect, or incidental, resulting from the loss of usage or earnings occurring out of or in connection with the usage or execution of the bill of sale or any other legal form or kind design template supplied on this web site.
Will Forms — Trust Forms — Search For Legal Forms — Printable Legal Forms — Advance Directives — Personal Legal Forms — Business Legal Forms