The Medical Power of Attorney Forms are recognized by all 50 states. Many states use different names such as Health Care Power of Attorney, Health Care Proxy, Health Care Agent, and Health Care Representative.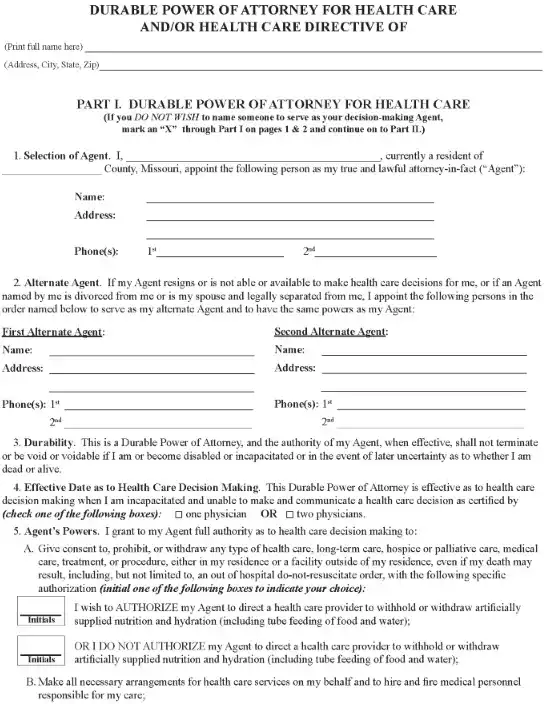 The Medical Power of Attorney is considerably effortless to fill out. The majority of the time involved will be choosing in advance which decisions you would like to be executed if or when the time takes place. Do you wish to stay on life support systems even if there is no brain function? Do you desire medical representatives trying to revive you if you enter into cardiac arrest? Do you prefer to give away your organs and tissues after you've passed away? The absolute best time to make these preferences is when you're somewhat healthy and in a clear state of mind.
It is essential that you describe your choices to the person you are commissioning as your medical representative. The person definitely needs to know what your selections are for as many probable scenarios as possible. For how long do you want to continue with life support before wanting to discontinue life support? Do you have any fears of specific medical treatments or surgical procedures? Do you wish to breath by yourself at all times or is a breathing machine suitable?
A fillable PDF has areas called fields. Just merely click the blank field and key in the mandated material. The font size of the letters you input shrinks or expands to the range of data inputted into the field. If you have a long name or type in a great deal of details into what looks like a brief field, the text will still fit into the given space.
We furnish most of the free Medical Power of Attorney in Microsoft Word as well as a free PDF form. A few are available as PDF only. The Word file template will instantly download so take a look at the folder where files are housed on your personal computer or mobile device. The PDF will initiate in an unique browser tab so you can print or save it.
WORD – Medical Power of Attorney Form Word
PDF – Medical Power of Attorney Form PDF
Medical Power of Attorney Forms By State
This medical power of attorney form along with every various other legal forms furnished on this web page are presented "as is" without having limited or specific warranties. This consists of, yet is not restrained to, warranty of merchantability or fitness for any type of sort of details use.
This medical power of attorney form was not produced by a lawyer or law practice. If the file is legitimately proper for your demands, it is your responsibility to figure out. If required, you have to furthermore make certain that the form is submitted filled out and also witnessed and/or notarized.
As a webpage visitor of this website, you assume all duty in addition to accountability for using this medical power of attorney form and also completing. We do not assume any type of legal duty or responsibility for the precision or functionality of the legal form.
By downloading, printing, or performing this medical power of attorney form, you recognize that we will not be held liable for losses or damages, whether absolute or indirect, originating from the loss of use or loss of earnings arising from the use or signing of the legal forms or the form templates offered on this site.
Will Forms — Trust Forms — Search For Legal Forms — Medical Power of Attorney — Advance Directives — Personal Legal Forms — Business Legal Forms